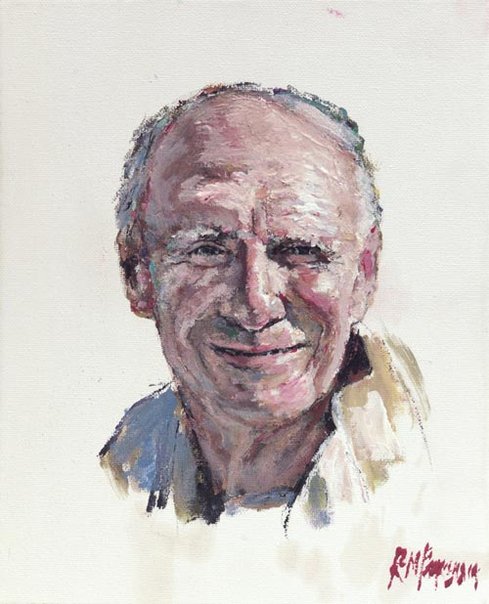 Roger Boreham
Dad, what a smile
Medium

watercolour and synthetic polymer paint on canvas

Read label text

"I love his smile. That's it essentially," says Roger Boreham of his portrait of his father. "I tried to think of someone famous but there's no-one more famous for me than my Dad. He's a great father."
Boreham set out to invest as much power as possible into a small painting and worked hard to create a shimmering quality that didn't feel overdone.
"A lot of artists think size matters but for my own edification I wanted to paint something small that was just as powerful," he says. "I like the minimalist approach. A lot of artists put in backgrounds. I think a good portrait should stack up by itself.
"I've tried to go for something impressionistic. It took a long time to do. I kept building it up, nine or ten times. But it's all about capturing the warmth of the smile. It's a warm, happy portrait. Optimism is the name of the game."
Boreham is also a musician. With every portrait he paints, he composes a piece of music on the piano at the same time. "Every brushstroke goes down with a melody," he says. "Generally speaking a melody will just come into my head. It's an interesting little gift to have."
Born in England in 1965, Boreham trained at art school then travelled extensively throughout Europe. He came to Australia in 1981. A landscape as well as a portrait artist, this is his first time in the Archibald Prize.