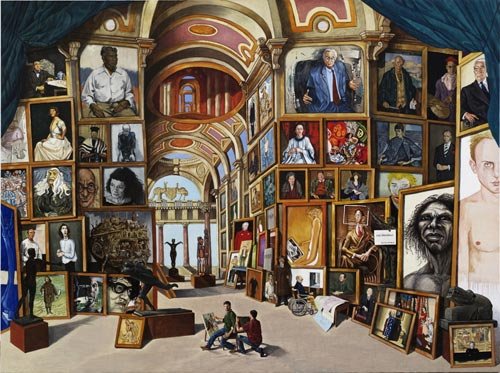 Eolo Bottaro
The Archibald
Medium

egg tempera and oil on linen

Read label text

In his painting The Archibald Eolo Paul Bottaro has included as many of the past winners of the Archibald Prize as he could, dating back to 1921.

Bottaro features himself at the bottom of the composition painting a self-portrait. "I guess you have the burden of over 50 past winners on your shoulders when you enter the Archibald Prize so the figure is quite small in comparison to the huge hall," he says. "The pressure of so many winning pictures is something probably every artist feels."

The choice of works represented and their position in his imaginary gallery was largely dependent on their significance within the history of the prize, the personal impact of artist and/or subject on Bottaro's work, and how these figures relate within the broader sphere of Australian history.

The challenge for Bottaro was to make the picture work as a whole, not as a collage but as a unified painting. "At one point it looked like a big quilt. Putting certain pictures next to others, I'd find they clashed and I often had to paint one out and reposition it."
There was also the challenge of simulating the individual painting styles of the winners. "I tried to do justice to each work and each artist," says Bottaro. "It was a headache I have to admit. The picture dominated the studio completely for a year and took six months of solid painting."

The picture is painted with pure hand-ground pigments using egg tempera first and then oil. "That's just the way I work," say Bottaro, who is known for the compositional complexity of his realist figurative paintings.

Born in Melbourne in 1974, Bottaro graduated from the Victorian College of the Arts in 1994 with a Bachelor of Fine Arts (Painting). In 1997 he began researching fresco painting, which led to a five-month restoration of a church in Sicily. He has had regular solo exhibitions in Melbourne since 1999 and has participated in many group shows including Divisione Interna in 2007 at Ballarat Fine Art Gallery, and Muse, a 2008 curated travelling show at Mildura Arts Centre and Benalla Art Gallery. He won the People's Choice Award at the 2006 Metro 5 Art Award.

Visible subjects of past Archibald paintings include the following: JF Archibald; H Desbrowe Annear; Gladys Collins; Esther Paterson; Annie Murdoch; Sir John Sulman; HA Hanke; Normand Baker; Elink Schuurman; Col Jim Gordon VC; Joshua Smith; JS Rosevear; Bonar Dunlop; Sir Robert Menzies; Albert Namatjira; Ivor Hele; Ray Walker; Stanislaus Rapotec; Rabbi Dr I Porush; Professor James McAuley; Charles Blackman; Margo Lewers; Lloyd Rees; George Johnston; Neville Gruzman; Sir John McEwan; Gough Whitlam; Michael Boddy; Norman Stephens; Tim Burstall; Brett Whiteley; Philip Adams; Rudy Komon; Chandler Coventry; Max Gillies; Herbert Flugelman; Dr John Arthur McKelvey Shara; John Beard; Elwyn Lynn; Dorothy Hewett; Paul Keating; Tom Thompson; John Reichard; William Robinson; Wendy Sharpe; Barbara Blackman; Allan Mitelman; Euan MacLeod; David Wenham; John Bell; Simon Tedeschi; Richard Flanagan; David Gulpilil; John Olsen; Paul Juraszek; Janet Laurence.