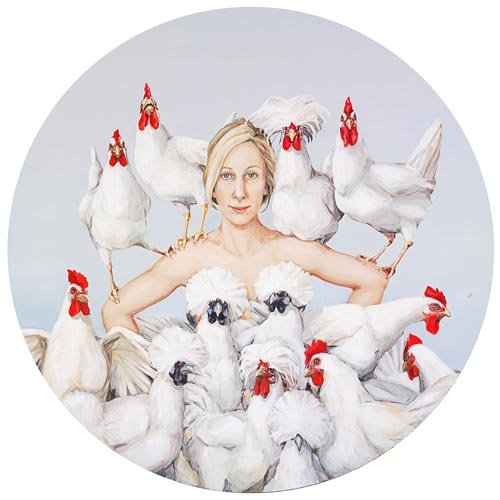 Joanna Braithwaite
Chook, chook, chook
Medium

oil on canvas

Read label text

Chook, chook, chook is the third in a series of self-portraits by Joanna Braithwaite in which she is surrounded by and/or covered with the subjects she is painting. The other two were Birds of a feather in which she was covered in sparrows and Pleasant Point revisited in which she was seated with guinea pigs. These works were finalists in the Portia Geach Memorial Award in 2005 and 2006.

Braithwaite has painted many different animal and bird species over the years. She recently had an exhibition at Darren Knight Gallery in Sydney called Animalia, which included a variety of animal works and several paintings depicting hens balancing eggs (some extremely large) on spoons. Eggs have also been a common theme in her paintings.

'The chooks I have known have been lively and inquisitive,' says Braithwaite. 'There are a huge variety of poultry breeds which are visually rich and exciting to paint. I am very fond of poultry and find hens particularly intelligent. I like the fact that when you own them there can be a rewarding relationship – the human party ultimately benefiting from fabulous fresh eggs and good companionship. I don't currently have any hens but should circumstances allow it in the future I definitely would.

'In these paintings where I cover myself in animals, humour is evident but there is also a strong underlying curiosity in regard to human relationships with animals and a respect for them and the things we share in common.'

Born in England, Braithwaite grew up in New Zealand and moved to live in Sydney in 1999. She has a Bachelor of Fine Art from the University of Canterbury, School of Fine Arts in New Zealand and a Master of Fine Art from the College of Fine Arts in Sydney. She has had numerous solo exhibitions since 1984. In 2005 she had a survey exhibition at Christchurch Public Art Gallery and Dunedin Public Art Gallery in New Zealand. She was a finalist in the Sulman Prize in 2004, 2005, 2006 and 2007 and was Highly Commended in the 2005 Portia Geach Memorial Award.