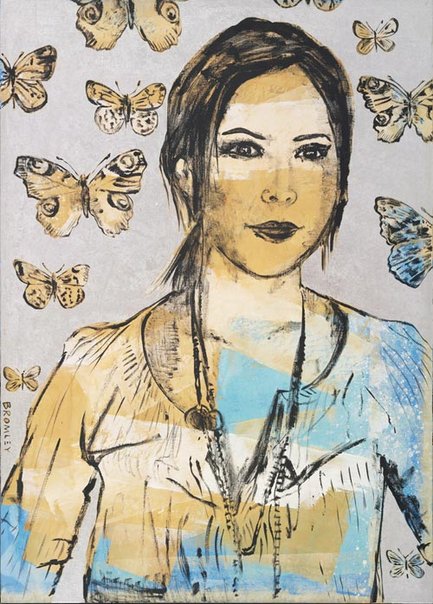 David Bromley
Louise Olsen
Medium

synthetic polymer paint on linen with metallic leaf

Read label text

Louise Olsen is a director and designer at Dinosaur Designs, which she co-founded in 1985 with Stephen Ormandy and Liane Rossler. The three of them met while studying drawing and painting. Now internationally renowned, Dinosaur Designs sells its distinctive jewellery and homewares in its own stores in Sydney, Melbourne and New York as well as exporting to over 20 countries.
David Bromley has known Olsen for many years. "She's a person I really like and I've always thought that she has a very special face that would be wonderful to paint," he says. "I am involved in design and furniture as well as working as an artist and I love what they do and what they make at Dinosaur."
The portrait of Olsen has been in Bromley's head for a long time. "I wanted it to be fairly pared back so I went very acoustic with it," he says. "It has a reasonable boldness to it. But Louise isn't a very gregarious person so I wanted it to have a subtlety as well without too many raucous colours – even though the pieces she makes use luminous colours."
Bromley melds figurative expressionism and pop art in an engaging, colourful style. His best-known work draws on imagery from Boy's Own annuals and old magazines and explores themes of childhood innocence, lost and found. Recently, he has used layering and texturing techniques in explorations of the female figure.
Increasingly in demand as a portraitist, he has painted Scott Hicks, Hugo Weaving, Kylie Minogue, Megan Gale and Kristy Hinze among others.
Born in England in 1960, Bromley arrived in Australia in 1964. He now lives and works in Melbourne. Listed among Australian Art Collector's 50 most collectable artists, he has exhibited in London, Paris, Tokyo, New York, Moscow, New Zealand and Singapore as well as Australia. This is his fifth time in the Archibald Prize.