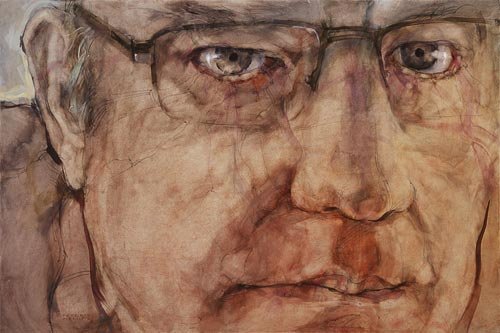 Peteris Ciemitis
Grabowsky
Medium

mixed media

Read label text

A passion for jazz led Peteris Ciemitis to seek out renowned Australian pianist and composer Paul Grabowsky, whose award-winning career includes founding the Australian Art Orchestra, collaborating with jazz luminaries such as Branford Marsalis and Scott Tinkler, and composing film scores.
"I see strong parallels between the emotional spaces great jazz performers inhabit, and similar improvisational spaces I find myself occupying when a painting is working and I feel that my work is 'in the zone'", says Ciemitis.
Introduced by a mutual friend, actor Ellen Cressey, Ciemitis was fascinated by Grabowsky whom he found to be "at once warm, open and engaging, yet also seeming to conceal a depth of emotion and intellect. As the sitting at his Melbourne home proceeded, with both of us listening to Mozart's The Marriage of Figaro (if I remember correctly), I watched an intense absorption settle on him, some of which I hope has found its way into the painting."
In the portrait, Ciemitis tries to strip away surroundings and zero-in on Grabowsky's face, as we all do when we engage intently with someone. "To me the triangulation of ear, eyes and mouth represents a metaphor for the interplay of intellect, heart and 'voice' in Paul's music," he says. "The painting contains subtle links tracing connections between these elements, and back to the viewer through the fixed gaze."
Born in Western Australia in 1959, Ciemitis has a deep interest in creating work which explores psyches and emotions. He has exhibited regularly for over a decade. Recently, he has won a number of awards in various Western Australian art prizes including the Cossack, Vincent, South Perth and Melville Prizes. He was a finalist in the Prospect Prize (for Self Portraiture) in Adelaide and a finalist in last year's Archibald. This year one of his works was secured as part of a permanent exhibition Diaspora Returns in the Valmeiras Gallery in Latvia, tracing the circular return of some of the country's creativity lost during its post-war exodus.