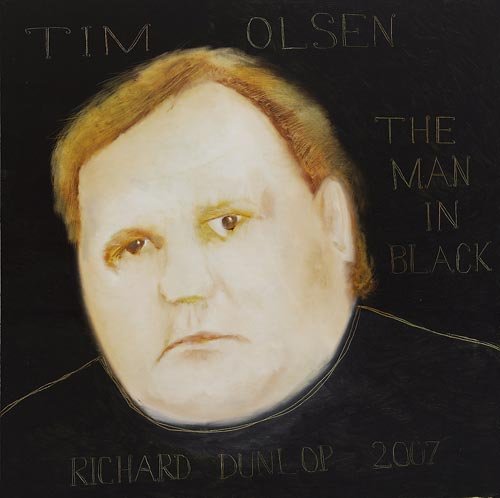 Richard Dunlop
Tim Olsen: the man in black
Medium

oil on Belgian linen

Read label text

Prominent Sydney art dealer Tim Olsen belongs to a famous Australian creative dynasty that includes his father, artist John Olsen, and sister, Louise Olsen of Dinosaur Designs – the subject of another portrait in this year's Archibald Prize, by David Bromley.
Olsen is Richard Dunlop's dealer. "He has always struck me as a forthright straight-shooter, who is gregarious, highly intelligent and sensitive," says the artist. "He is a little like a gunslinger or Johnny Cash: a man who has experienced life, with one eye paying attention to the person present and one eye always alert for opportunities or the possibility of danger. In some ways, the painting mimics the style of the cover for a biography or a music album."
Dunlop used a house nail to etch the text on the painting into the wet paint, the same technique used by Matisse, who in turn thanked Rembrandt for using the tail end of his brush to etch in the hair on his self-portraits. Dunlop has been etching into paintings in a similar way since the mid-1980s.
Olsen frequently dresses in black, as he did when Dunlop sketched him and worked on portraits of various sizes. "Although the final submission is deliberately modest in scale by Archibald standards (and even my own favoured scale), it was appropriate for Tim because he is not a person who clamours for attention," says Dunlop. "Ridiculously over-sized paintings of heads seem grotesque, overbearing or crass to me, gaining an audience's attention by shouting rather than subtle attraction. Life finds Tim because he is intriguing as an individual. He is noticed when he walks into a room."
Born in Brisbane in 1960, Dunlop is an established Australian artist whose work is held in many public collections including the University of NSW, University of Tasmania, Griffith University and Macquarie Bank. He has two PhDs, including a Doctor of Visual Art (2007) for which he received an Award for Academic Excellence from Griffith University. He has had over 20 exhibitions in commercial galleries in various states of Australia, as well as Switzerland and Japan. This year, he has a major survey exhibition at Townsville's Perc Tucker Regional Gallery.