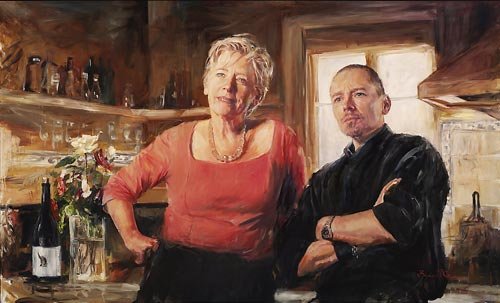 Barry McCann
Simpatico
Medium

oil on canvas

Read label text

Maggie Beer and Simon Bryant co-host The Cook and the Chef on ABC television. She is an inspired cook with an international reputation for mouth-watering home-cooked dishes, created without recipes, using only the best seasonal ingredients. He is Executive Chef at the Adelaide Hilton where he co-ordinates 34 chefs, two restaurants and room service and creates five-star masterpieces daily.
Barry McCann trained as a commercial chef and loves the program – though he now works as a full-time artist. Given the go-ahead for the portrait, he hopped in his car and headed for South Australia where the show is recorded.
"Usually the subject dictates the format and size of the canvas," he says. "But in this instance it's the exact size of the back of my station wagon as I drove from Armidale where I live."
McCann recalls Beer using the word "simpatico" on one of the shows to describe how well certain ingredients worked together. "But it's so applicable to them too," he says, referring to the title of the portrait. "They get on together so well, they are real mates."
In terms of composition, McCann decided to place Bryant on Beer's left – the opposite to the television show. "Simon is strong and thoughtful so I have him with his arms crossed, a dark shape against a light background. Maggie is always happy so she is smiling, a light shape against a dark background. But to suggest how well they work together, they are almost one shape."
Born in Armidale in 1962, McCann was originally a watercolourist but now paints in other mediums including acrylic and oil. He and his wife Lucy run McCann Fine Art. They teach art in their studio and to groups throughout the region. McCann has participated in numerous group exhibitions. He was Highly Commended in the 2007 Gold Edition Equine Prize and in the rural subject/landscape category at the 2007 Sydney Royal Arts Show. He was also a finalist in the 2005 Hazelhurst Art Award and the 2004 Shirley Hannan Portrait Prize. This is his first time in the Archibald.