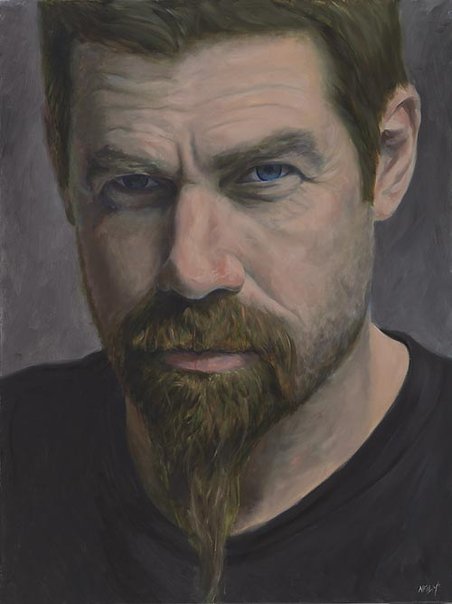 Neil McIrvine
David Disher
Medium

oil on canvas

Read label text

David Disher is an artist known for his strikingly composed, provocative, often highly political work. He won the 2007 Sulman Prize for his painting Axis of Elvis, a witty, satirical piece in which he re-enacts President Richard Nixon's notorious 1970 meeting with Elvis Presley at the White House – staged by Disher in front of a mosque decorated with pictures of Elvis.
Neil McIrvine has known Disher for a few years and always thought he had an interesting face. "His outside appearance is completely different to what he is really like. He has that blokey, goaty, hard façade that looks pretty menacing but he's the complete opposite: a vegetarian and a real softie," says McIrvine.
"So I was trying to capture that gentleness and at the same time combine it with a façade that some people might find frightening."
They did a couple of sittings at McIrvine's studio then the portrait was completed from photographs. "I thought I might have to paint two or three but it worked from the very beginning so that was a bonus," says McIrvine.
Born in Dundee, Scotland in 1959, McIrvine came to Australia in 1990. He lives and works in Melbourne. He has exhibited regularly in solo and group shows since 1988. He was a finalist in the 2006 Shirley Hannan Portrait Prize and the 2004 Cromwell's Art Prize where he won the People's Choice Award. He has work in the National Gallery of Victoria contemporary collection.