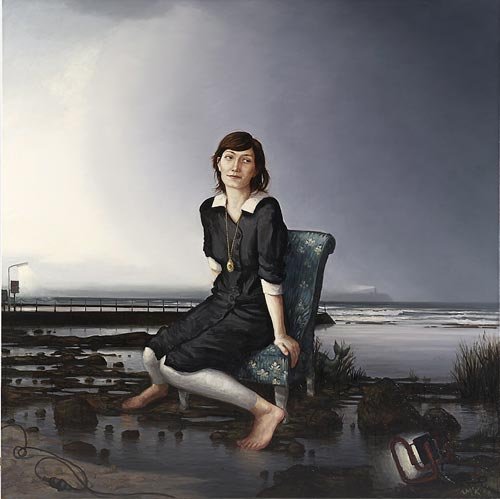 Alexander McKenzie
Sarah Blasko
Medium

oil on linen

Read label text

Singer/songwriter Sarah Blasko's emotive, highly individual music has gained her a huge following in Australia and the US. Her second album What The Sea Wants, The Sea Will Have has just gone platinum and won the 2007ARIA Award for Best Pop Release.
She and Alexander McKenzie have known each other since childhood. Their parents were friends so their families spent a lot of time together.
"Basically I wanted to paint her because I love her music, and the shared memories of being eight-year olds together at BBQs, picnics and Christmas," says McKenzie. "Plus now she's a beautiful woman.
"Our families were quite close when we were kids, then you hit a certain age and wander off and do your own thing and I didn't see her for 10 years. Then she started winning ARIAs and having sell-out concerts. I got in touch and she invited us to a gig at the Enmore Theatre and I was blown away. She's a terrific songwriter doing something truly unique."
McKenzie painted Blasko at the ocean pool at South Cronulla beach: a place of significance for both of them since they spent much of their childhood there. The location is also a nod towards the title of her ARIA Award-winning album, while the composition of the painting references Leonardo da Vinci's Madonna of the Rocks.
"It's a classically-based idea and I have used a lot of symbolism in the painting as I do with my landscape work," says McKenzie.
Born in Sydney in 1971, McKenzie studied in Sydney before moving to the UK and Ireland. Known for his evocative landscapes and luminous painting technique, he exhibits regularly in Australia and overseas. He was an Archibald finalist last year and is a finalist in this year's Wynne Prize for the fourth year running. His work is held in many collections including the Royal Bank of Scotland and Macquarie Bank in Australia.