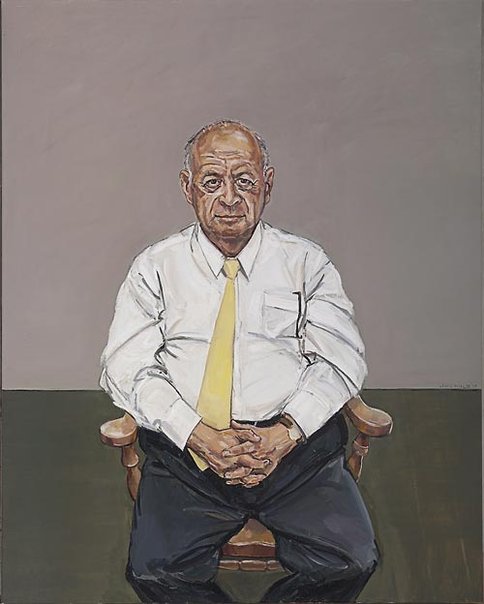 Lewis Miller
Tom Lowenstein
Medium

oil on linen

Read label text

Tom Lowenstein is an accountant who looks after many artists in Australia.
"I usually paint my friends, so I thought it was time I did a picture of Tom," says Miller, who has been an Archibald finalist 15 times now. "He has a nice face and I like him a lot."
The portrait was painted from life in Miller's studio over the course of eight sittings. "It was quite difficult," says Miller. "I struggled for the first few sessions. There was too much natural light flooding in onto his face so I had to reposition him in the studio. Also, because I hadn't done any drawings of him before, it took time to get to know his face. Eventually a likeness emerged but it wasn't easy."
As the portrait progressed, Miller would check it by looking at it in a mirror. "It's a very useful tool because I don't use photographs and it helps me to see the mistakes and inadequacies," he says.
Born in Melbourne in 1959, Miller studied at the Victorian College of the Arts, where he also completed post-graduate studies. One of Australia's leading figurative and portraiture artists, he receives regular portrait commissions from Australia and overseas and has had regular solo exhibitions. He won the 1998 Archibald Prize with a portrait of artist Allan Mitelman, the 2007 James Farrell Castlemaine Self Portrait Prize, and the AGNSW's 2000 Sporting Portrait Prize with a painting of football legend Ron Barassi.
In 2003, he was appointed Official Australian Artist to the conflict in Iraq by the Australian War Memorial and spent several weeks there. At present he is artist-in-residence at Grimwade House Melbourne Grammar (junior school). Since 1998, he has been a regular artist-in-residence at Cold Spring Harbour Laboratory in New York where he has made over 60 portraits of the main players in the completion of the Human Genome Project.