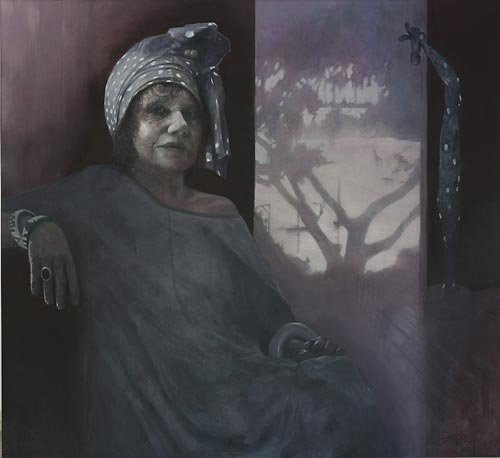 John Phillips
Wendy after two cups of coffee
Medium

oil on canvas

Read label text

John Phillips' painting of Wendy Whiteley, wife of renowned Australian artist, the late Brett Whiteley, doesn't portray her "in a singular moment, but is a moulding of what I was able to capture of her during sittings over a five-week period," says Phillips. "Fragments of her expressions and gestures combine on the canvas, in a way they perhaps never have done in the natural world.
"The portrait changed drastically as my perceptions of Wendy accumulated: regal, stubborn, headstrong yet fragile, compassionate and incredibly cheeky."
Meeting her for the first time, Phillips quickly realised Whiteley wasn't interested in small talk. "Though I often felt like I was being interrogated, she made me feel entirely welcome," he says. "Our conversations revolved around our families. As we talked it become clearer to me that Wendy's life is now far removed from the days when Brett painted her drunk or naked. A new life focus for Wendy is her garden, grafted onto a derelict Railway site."
One of Phillips' early intentions was to reference a 1968 portrait by Brett Whiteley called Wendy. "Wendy explained to me how she had told Brett to change the background colour in it from yellow to a deep plum," he says. "Once, Brett's work and Wendy's life were entirely intertwined. I used the plum to indicate how this connection lingers."
A more direct reference to Brett is made through one of his giraffe sculptures (Giraffe no.1), which is pictured sitting near the framed opening as if partly checking up on Wendy and partly appreciating the fig-filtered harbour view. "The physical presence of the sculpture in the portrait brings an echoing tactility to Wendy's past life," says Phillips.
Born in England in 1980, Phillips came to Australia aged four when his parents immigrated. He graduated from the University of NSW in 2004 with a Bachelor of Architecture. He had his first solo exhibition in Switzerland last year and will have his first solo show in Australia in September. His portrait of Neville Gruzman appeared in the Salon des Refuses in 2005.