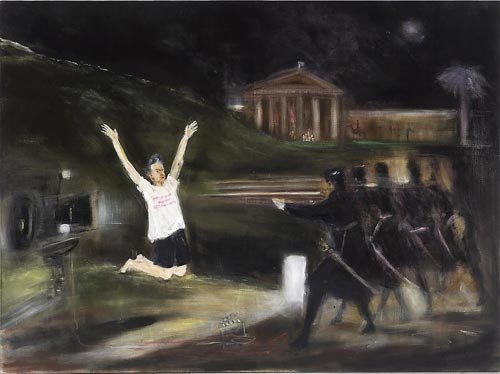 Rodney Pople
Art is what you can get away with (self-portrait)
Medium

watercolour and oil on linen

Read label text

Art is what you can get away with is a self-portrait by the artist Rodney Pople. The title is a quote from Andy Warhol, a truism that also reflects Pople's attitude to making art. The quote adorns a T-shirt that Pople recently purchased from the Warhol exhibition in Brisbane, which he paints himself wearing here.

The painting takes its inspiration from Goya's The shootings of May 3rd 1808 painted in 1814. "I chose the Goya painting because it's a painting about surrender," says Pople. "It's about execution and spectacle – the execution and spectacle of ideas, of the artist and of the painting itself. In contemporary times, executions are staged in the public eye, whether through media reporting, reality television programs or intrusive, paparazzi photographs. This feeling of being exposed, of being vulnerable to sound bite-sized interpretation is a disconcerting yet inherent part of being an artist today, especially when participating in high-profile exhibitions such as the Archibald Prize, which, rightly or wrongly, receives more media attention than any other art exhibition in the country. As an artist who exhibits regularly, I am constantly surrendering myself to public persecution yet still always trying to get away with what I can in terms of pushing the boundaries of my artistic practice."

Born in Launceston in 1952, Pople gained a Diploma of Fine Arts (Photography) at the Tasmanian School of Art and undertook postgraduate studies in sculpture at the Slade School of Art in London and the New York Studio School. He has been exhibiting annually since 1978 and is represented in Sydney and Melbourne by Australian Galleries. This is the seventh time that Pople's work has been selected for the Archibald Prize. He is also a finalist in this year's Wynne and Sulman Prizes.