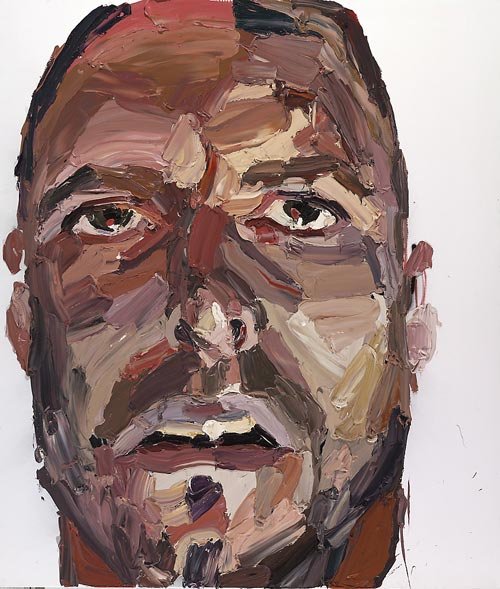 Ben Quilty
Self-portrait after Madrid
Medium

oil and aerosol on linen

Read label text

Ben Quilty's Self Portrait After Madrid was made after spending four months in Spain during the second half of 2007. Quilty was awarded a residency in the Barcelona studio by The Australia Council for the Arts.
While in Spain, he spent a short time in Madrid visiting the Prado Museum, which features one of the world's finest collections of European art.
"The Prado is like a big cathedral – the beginning of contemporary art as we know it. Heaven and hell, life and death," says Quilty. "I found the experience of seeing the work there overwhelming.
"The painting I've made is about anxiety and I wanted the image to make the viewer feel uneasy and confronted by my big worried head.
"At the same time the 2007 federal election was coming to a head. I was nervous about it, and the vast distance only made me feel more uneasy and helpless. I wanted the painting to reflect that anxiety as well."
Born in Sydney in 1973, Quilty has a Bachelor of Visual Arts (Painting) from Sydney College of the Arts and a Bachelor of Visual Communication from the University of Western Sydney. In 2002, he won the Brett Whiteley Travelling Art Scholarship and has worked as a full-time artist since. He has had 12 solo exhibitions including Death Wish at the Newcastle Region Art Gallery and has participated in over 60 group exhibitions including Truth and Likeness at the National Portrait Gallery in 2006. He was a finalist in the Dobell Drawing Prize in 2006. In 2009 The University of Queensland Art Museum will hold a major touring survey of Quilty's work. This is his fourth time in the Archibald Prize.