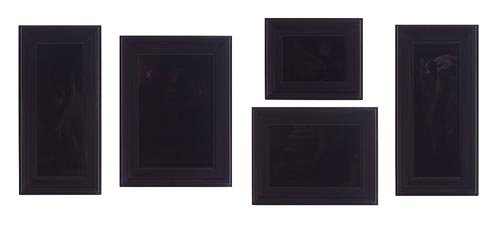 Leslie Rice
Quartered, drawn and hung: Adam Cullen on public display
Medium

synthetic polymer paint on black velvet (five panels)

Read label text

Until 1870 the punishment for those convicted of high treason in England was: "That they should…be drawn to the Common place of Execution upon hurdles, and there to be hanged by the necks, then cut down alive, their privy-members cut off, and bowels taken out to be burnt before their faces, their heads to be severed from their bodies, and their bodies divided into four parts, to be disposed of as the King should see fit."
Such events were huge public spectacles. Usually, the dismembered remains were prominently displayed around the city, or in more famous cases in various parts of the country, to act as a deterrent to others.
Cast as an enfant terrible of Australian art, Adam Cullen "is often presented as an example to others – though not always in a positive manner, which is why he seemed an appropriate subject for such treatment," says Leslie Rice regarding his artistic dismemberment of Cullen. "This work plays with the conventions of portraiture and it's historical raison d'etre – to accord the sitter some kind of immortality, a presence beyond death."
Rice and Cullen share a predilection for Art that portrays a darker aspect of human nature. "Civilised societies are responsible for the highest cultural achievements and the most barbarous forms of corporal punishment," says Rice.
A colourful and controversial artist, Cullen is a popular Archibald finalist who won the Prize in 2000 with a portrait of actor David Wenham.
Born in Sydney in 1976, Rice completed a Bachelor of Fine Arts at the National Art School in 2005 and the NAS Honours course in 2006. He currently teaches third year painting there. He won the Doug Moran National Portrait Prize in 2007 and was a finalist in the Blake Prize for Religious Art in 2006 and 2007.