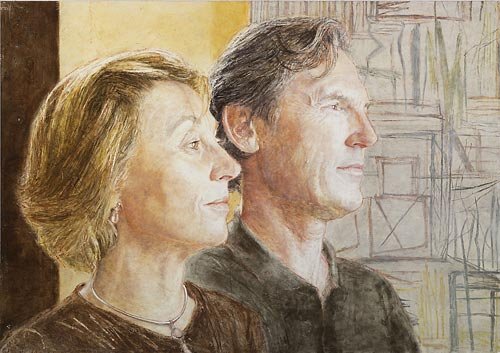 Jenny Sages
Anita and Luca
Medium

encaustic, oil and pigment on board

Read label text

Anita and Luca Belgiorno-Nettis are dear friends of the artist. Both have a great love of the arts. Luca is currently Joint Managing Director of Transfield Holdings, Chairman of the Biennale of Sydney, and Chairman of the Arts Advisory Committees at the University of Technology, Sydney and the University of Western Sydney. He is also a member of the Australia International Cultural Council. Anita is an active volunteer in the community sector. She is currently executive producer of The black balloon, a new Australian film starring Toni Collette, which won a Crystal Bear at this year's Berlin Film Festival.

This is Jenny Sages' 17th portrait in the Archibald Prize. She has been Highly Commended six times but has yet to win. "My apprenticeship has lasted a long time," she says with a laugh.
"The doing of this portrait gave me a great deal of joy," says Sages. "I look for a painting first and foremost – in this case for a narrative that joined the three of us. From time to time I would drop in on Sunday while they were having lunch with their teenage children Anna and Matteo and share laughter, cheese and a bowl of spaghetti. Each visit became more important for me as I circled their environment looking for a way into the portrait. Large charcoal drawings followed one after another until one of them made sense to me. I then used it as a study for the work, which came easily."

The painting behind them is by Ken Whisson. "They had just bought it and were excited about it," says Sages.

Born in Shanghai of Russian parentage, Sages came to Australia in 1948. She studied at East Sydney Technical College, in New York and then with John Olsen and Mary White. After freelancing for 30 years as an illustrator, she has painted full-time since 1985. She won the 2005 Wynne Prize and The Portia Geach Memorial Award for portraiture in 1992 and 1994. Her work is represented in numerous public and private collections including the National Portrait Gallery and the Art Gallery of NSW.