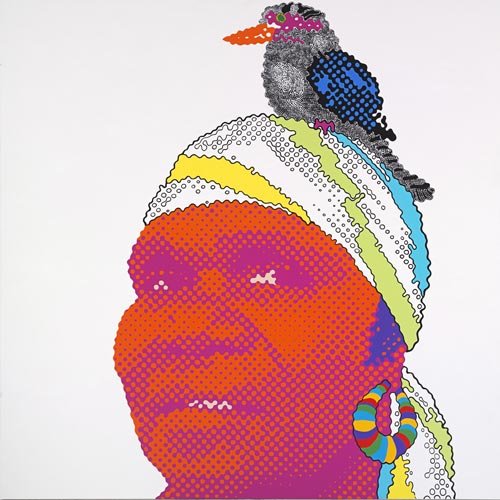 Song Ling
Angelina Pwerle
Medium

synthetic polymer paint and mixed media on canvas

Read label text

Angelina Pwerle is a prominent Indigenous artist who lives and works in Ngkawenyerre, Utopia in the Northern Territory. She and Song Ling show at the same Melbourne gallery, Niagara Galleries, which is where they met.

Like many of the Utopia women artists, Pwerle first started making work using the Indonesian technique of batik but since canvas and acrylic paint were introduced to her community, she has largely worked in that medium.

Angelina uses intense areas of dotting to create her sublime representations of the bush plum dreaming. Like Song Ling, she is a wonderful colourist, drawing on the vibrant colours of the desert flora, but she sometimes uses a minimal palette of white dots on shades of red and black. She also carves animal and figure sculptures in wood.

Ling's work is known for its vivid colours and bold illustrative style. Usually the backgrounds of his paintings are also brightly coloured. 'This is the first time I have used a white background, to create more contrast,' he says.

Ling has been working with a print screen dot style for around three years. He has used smaller dots for the bird sitting on Pwerle's head as a reference to Angelina's own style of painting.

Born in China in 1961, Ling came to Australia in 1988 and lives and works in Melbourne. He graduated in 1984 from the China National Academy of Fine Arts with a Bachelor of Fine Arts and was one of several important artists involved with the 1985 New Wave art movement in China. He has had solo exhibitions at Pinacotheca Gallery and Niagara Galleries in Melbourne and been a finalist in the ABN AMRO Emerging Artist Award, the Fletcher Jones Arts Prize, the Blake Prize for Religious Art and the Gold Coast Art Prize.