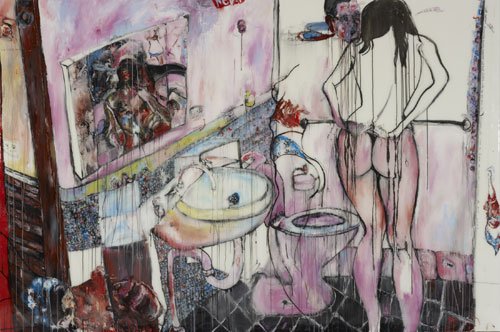 Anthony Bennett
self-portrait in the bathroom discussing beauty, bukowski and brett whiteley with my ex, now a stripper, who likes to dress as wonder woman
Medium

Mixed media on canvas

Read label text

"This portrait is on one level a conversation about art," says Anthony Bennett. "On another level it is a basic statement of desire and yearning for a former lover. It also marks the starting point of an intense collaborative exploration into the expressions of sexuality in superheroes and the lifecycle of a supermodel.

"My beautiful and inquisitive friend and I have begun discussing the works of Miller, Bukowski, de Sade, Nin and Nabokov with the ultimate aim being the examination of our own philosophies, so effectively distorted by the dogma of Catholic education, as they are. While this is an important and thoroughly enjoyable pursuit in itself – particularly since the introduction of lycra and latex – we also hope that some art will result from in and around that zen-lunatic journey.

"Of course, it is entirely possible – and I do not for one minute shy away from the proposition – that this is an overly elaborate justification for what is actually nothing more than a strong desire to get laid and play with Wonder Woman for fun and profit."
Bennett acknowledges the sensual also exists in the process of making his works using hands and fingers rather than brushes. "To me the process has to be as enjoyable, if not more so, than the result," he says. "Why continue otherwise? Titles are also an integral and vitally important component of the works as are the scrawled comments littered about the canvas."

Bennett is also a finalist in this year's Sulman and Wynne Prizes and was a finalist in the 2008 Archibald with a "portrait of Jon Farriss in a kylie t-shirt." Born in Mackay in 1966, he attended Queensland College of Art in Brisbane, graduating with a degree in visual art with a double major in painting and sculpture. He won the 2007 New Generation art award at Art Sydney, has been a finalist in the Conrad Jupiters and Churchie Art Awards, and has lived and worked in London, Tokyo and Rome. In 2004, he was awarded a Bundanon Residency and has had 13 solo exhibitions around Australia since graduating in 1998.