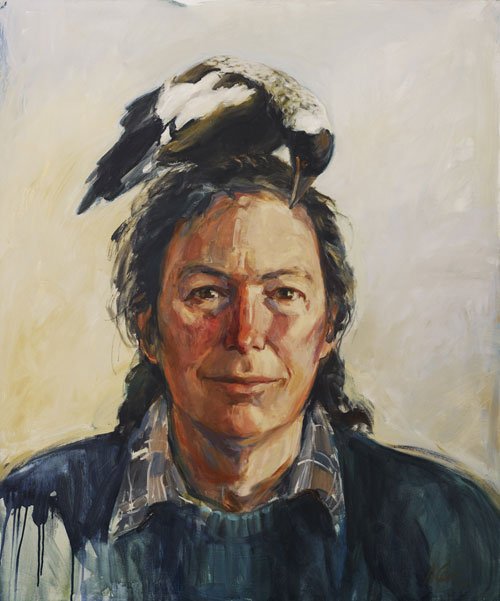 Ann Cape
Lucy & friend
Medium

Oil on canvas

Read label text

Lucy Culliton is a popular artist whose series of paintings about food, farms, poultry, cacti, horses and agricultural shows have won her a large following. She has been an Archibald finalist twice and won the Portia Geach Memorial Award in 2006.

Ann Cape has known Culliton for quite some time. Like Culliton, she enjoys painting animals and recently had a successful exhibition of paintings of dogs. "Lucy has an affinity with animals," says Cape. "She lives in country NSW with five dogs, several horses and various other forms of wildlife so the idea of painting her appealed to me. I always feel more comfortable painting someone I know – it frees me up. I find it easier painting an artist because they understand the process of making art."

Cape's original idea was to paint Culliton surrounded by her menagerie. During visits to Culliton's place, she painted this portrait as a way of getting a feel for her and then went home and mapped out a much larger work. "I spent quite a lot of time on it but in the end I decided that this work had more life to it," she says.

The bird pictured does indeed sit on Culliton's head while she paints. Culliton rescued it when it fell out of its nest and brought it up. It now follows her everywhere and bosses everyone around, including the dogs. "It's a quirky image but in some traditional cultures a bird on the head can signify an affinity with nature so it fitted quite well with Lucy," says Cape. "It was asking to be painted, really."

Cape has had several solo exhibitions and has exhibited extensively in group shows. This is her second time in the Archibald Prize. She has been selected four times for the Salon des Refuses and eight times for the Portia Geach Memorial Award. She was highly commended in the 2006 Doug Moran National Portrait Prize and has been a finalist in the Dobell Drawing Prize and the Blake Prize for Religious Art among other art awards. She has won over 50 prizes for drawing and painting, been involved in international residencies, completed many portrait and commercial commissions and recently returned from China, having designed a sculpture there as part of a friendship agreement between Mudanjiang and Mosman council.