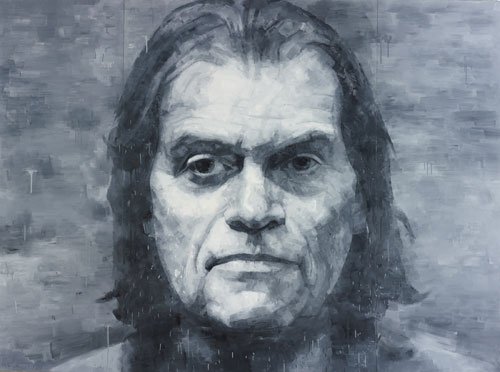 Adam Chang
Spirit of an ancient culture
Medium

Oil on canvas

Read label text

Brian Sherman was awarded the Order of Australia in 2004 for service to the community as a philanthropist and benefactor to a range of arts, education and sporting organisations, and to business and commerce.

He is President of the Board of Trustees of the Australian Museum and Director of the Australian Museum Foundation. Director of the Family Trust that owned the Sherman Galleries for over 20 years, he is the co-founder and co-director of the Sherman Contemporary Art Foundation, a charitable organisation established to fund the display of works of art to the public in order to enhance cultural awareness and appreciation of art.

He is also co-director and Patron of Voiceless, The Fund for Animals, founded by the Sherman family in 2004 to promote respect and compassion for animals.

Adam Chang has enormous respect and admiration for Sherman: this painting is a celebration of that esteem. Chang was also represented in the 2007 Archibald Prize with a portrait of Sherman and was an Archibald finalist in 2005 with a portrait of his wife, Dr Gene Sherman.
In this portrait, Chang has combined rational realism with expressionism. He has also infused Chinese aesthetic form with a deeper conceptual insight. The dark grey tones of the painting establish a grave and profound atmosphere while the dynamics of Chinese contemporary free-hand brushwork help to reinforce a visual tension. Chang's focus is on the universal, enduring and, above all, humane spirit that Sherman (reflecting his Jewish heritage) projects into the world.

Chang (Hong Jun Zhang) was born in Shanghai in 1960 and educated at the college of fine arts, Shanghai University. He began exhibiting in the early 1980s and had his first solo exhibition in 1985. He was subsequently represented at major national exhibitions throughout China. He migrated to Australia in 1997 where he has twice been a finalist in the Doug Moran National Portrait Prize. In 2001, he was one of 24 artists in the national touring portrait exhibition An Australian Odyssey. His work has been included in group shows in Australia and overseas.