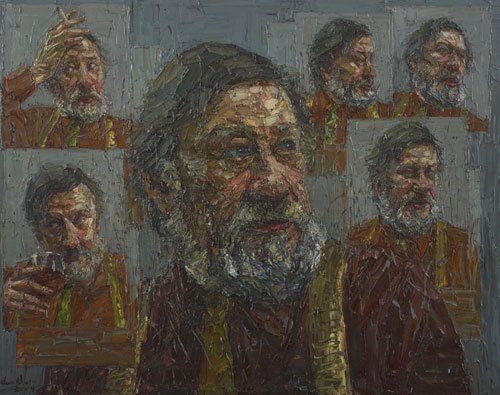 Jun Chen
Ray Hughes and five other moods
Medium

oil on Belgian linen

Read label text

Ray Hughes is Jun Chen's art dealer and they have known each other for over 10 years. During the last two years they have seen quite a bit of each other and have travelled to China together twice.

'Ray has run his gallery for 40 years and he introduced contemporary Chinese art to Australia,' says Chen.

After Hughes agreed early last year that Chen could paint his portrait for the Archibald, the artist observed him carefully at every opportunity. 'I find Ray is quite emotional: a man of many moods,' he says. 'When I started to paint the portrait, I found it hard to describe him using only one image. So I decided to paint several images to represent his different moods. I didn't catch them in one day: they emerged from a year of observation.'

Chen chose the most natural image as the main one and then used images depicting five other moods on both sides of the painting. He decided that the painting should be mainly grey with a little bit of dark colour for the face. 'I want the painting to be deep,' he says. 'I used red to paint the clothes to make the painting brighter.'

Born in China in 1960, Chen graduated from the Guangzhou Academy of Fine Arts in China in 1986. He then worked for four years as an art editor in book design and as a Fine Arts lecturer. During this time, he entered many art competitions, winning several prizes. He came to Australia in 1990 and graduated with a Master of Fine Art from the Queensland University of Technology. He has exhibited in many solo and group shows in Australia. He had been a finalist in the Sulman Prize three times and had portraits hung in the 2006 and 2008 Archibald Prize, as well as being a finalist in this year's Wynne Prize.