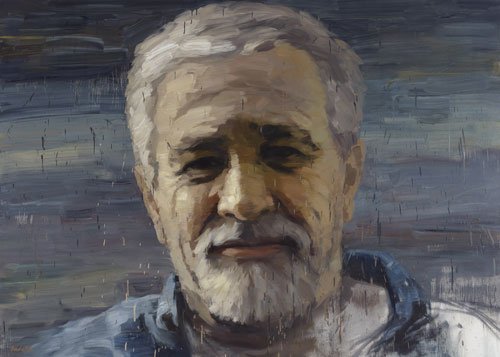 Kordelya Zhansui Chi
Good morning, this is Neil Mitchell
Medium

Oil on linen

Read label text

For 20 years, much of Victoria has started its day to Neil Mitchell's cheery "good morning." Throughout that time, Mitchell has dominated the morning timeslot in Melbourne radio with his top-rating program on 3AW. In a 40-year career, he has been editor of the Herald newspaper, a reporter and executive on The Age, and has hosted his own television program on two networks.

In 2007, Mitchell was inducted into the Radio Hall of Fame and was also appointed an Officer in the general division of the Order of Australia (AO) for services to charity and the community. In 1997, he was voted Victoria's Father of the Year.

Chi listens to Mitchell's radio program regularly and is a big fan of his. "I really like him. He did such a good job during the recent bushfires and is always helping people," she says. Chi also read Mitchell's 1999 book Second Chance: inspirational stories of survivors who found cheating death enhanced life, and was moved and inspired by it. "I feel he knows how to live, how to love life and how to help other people," she says.

Introduced by a mutual friend, Chi had several sittings with Mitchell during which she sketched him. She then did six drawings before she began the painting. She aims to convey his personality through his face: "his sharp intelligence and his warm, kind heart. For me, the painting is full of sunshine and happiness," she says.

Born in China in 1967, Chi graduated in 1986 with a Bachelor of Arts from the Fine Arts Institute of Guangzhou. She is now based in Melbourne but maintains a studio in China and goes back there regularly to work. She had solo exhibitions in Beijing in 2007 and 2008 and has also had solo exhibitions in Guangzhou and Taipei. She was a finalist in last year's Archibald Prize with a portrait of her son Julius, and had two paintings in the 1996 Archibald: Wrap Time of film director John Ruane and a portrait of Hon. Ms Jan Wade, MP. She was also a finalist in the Portia Geach Memorial Award in 1997, 1996 and 1995 when she was Highly Commended and won the People's Choice Award.