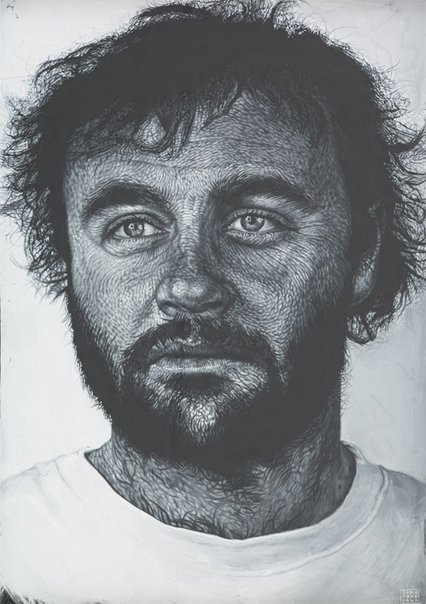 Sam Cranstoun
Gyton
Medium

Gouache and acrylic on paper

Read label text

Actor Gyton Grantley is best known for his portrayal of convicted murderer and drug trafficker Carl Williams in the acclaimed Australian television series Underbelly, for which he won the 2008 AFI Award for Best Lead Actor in a Television Drama. He has also appeared in television shows such as All Saints, Headland, Home and Away and Out of the Blue and the films Blurred and All My Friends are Leaving Brisbane.

Sam Cranstoun went to the same Brisbane school as Grantley – "though not at the same time. His younger brother knew my older brother," he says. "Pondering who to paint for the Archibald, I thought that it would be easy to relate to someone young who is starting out in their profession."

Cranstoun usually works in black and white and likes to take a warts-and-all approach in his portraits. He was represented in the 2007 Archibald Prize with a black and white portrait of his father, also made with acrylic and white gouache.

"It comes from liking photography, I guess," he says. "The scale in this work is also a large part of it. I like to capture a great deal of detail and I felt that I could achieve that by increasing the scale. Finding the character in someone's face is what is most appealing to me about portraiture. I also like working on paper: the medium itself became part of that interesting negative approach (using white gouache on black) to create something that turns out as a positive image."

Born in Brisbane in 1987, Cranstoun spent a gap year studying in France after finishing high school in 2004. In 2006 he attended the Queensland College of Arts in Brisbane. He is currently in his third year of a Bachelor of Fine Arts (Visual Arts) at the Queensland University of Technology. His work has been exhibited at the Oriel Gallery in Brisbane. He was also represented in the 2008 Churchie National Emerging Art Exhibition and the Pine Rivers Art Awards.