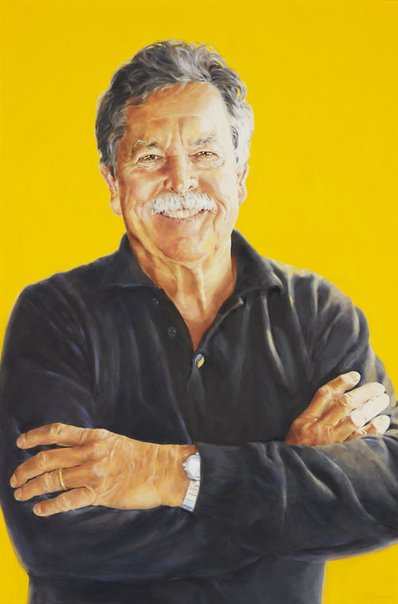 Ngaire Devenport
Ken Done
Medium

Oil on linen

Read label text

Ngaire Devenport has known internationally renowned artist and designer Ken Done for 50 years. They first met in 1959 while working together in advertising when Devenport was a freelance illustrator.

"I've always adored his work," she says. She is not alone. In many parts of the world, Done's bold, optimistic, vibrantly colourful images have come to symbolise Australia – in recognition of which he was awarded an Order of Australia (AM) in 1992 for Services to Art, Design and Tourism.

During a long career, he has had over 50 solo shows and has been a finalist in the Archibald, Wynne, Sulman, Blake and Dobell Prizes.

Devenport began her career as an artist painting in various different media, principally watercolour. Eight years ago she took up oil painting, which she has continued to develop with encouragement from Done, who exhibited her work at his gallery in 2004 and 2006.

"He has given me a great deal of confidence in my talent," she says. "He's been saying to me for years that I should try for the Archibald – so it was fitting that I should paint him and wonderful for me to paint someone I know so well."

She discussed the choice of background colour with Done and says that they settled on bright yellow because "that's his colour." After a couple of sittings at Done's studio, Devenport found that the painting – which is the largest she has done to date – flowed easily.

Born in Sydney in 1939, Devenport won a scholarship to East Sydney Tech at age 14 and studied there for 18 months before moving into the commercial world. She has exhibited at The King's School Art Show (under her married name of Schoen) and the Hornsby Art Gallery, and has painted several commissioned portraits including one last year of Lady Ann Jenkins, wife of former Lord Mayor of London, Sir Brian Jenkins. This is her first time in the Archibald Prize.