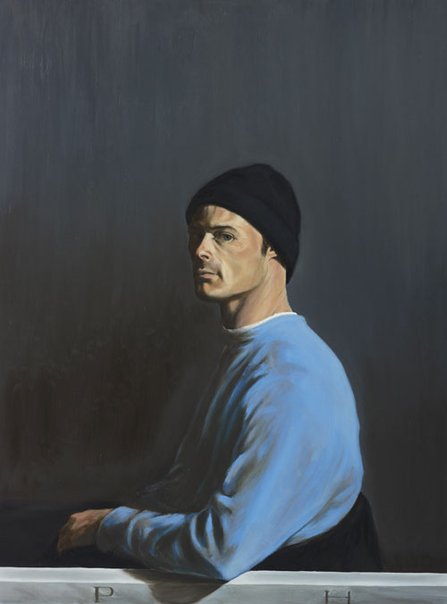 Peter Hanley
Remembering Titian
Medium

Oil on canvas

Read label text

Titian is widely regarded as one of the best portrait painters of all time. Peter Hanley certainly believes so.

Painted some time around 1510, his famous portrait Man with a Blue Sleeve (also known as Man with a Quilted Sleeve), which now hangs in London's National Gallery, is one of his benchmark works. "Rembrandt liked this painting so much, he emulated it for his own self-portrait some 100 years later," says Hanley.

"I too revere Titian's work and find his beautiful timeless art inspirational. One of the great joys I had in painting this self-portrait was to experience some of the challenges Titian would have felt. My portrait was done using a mirror to allow for maximum realism. In twisting close to 90 degrees, I discovered how stiff my neck became after hours of painting!
"One theory is that Man with a Blue Sleeve depicts a man resting his elbow on the edge of his own tomb," says Hanley, "demonstrating the idea of Memento Mori – Latin for 'Remember, You must Die.' Painting this was a challenge indeed and instilled even more respect for the Renaissance masters.

"My painting has some differences. I am left-handed hence I am facing the other way. Some 500 years after Titian, time is no longer measured with an hourglass, yet some things remain unchanged. The clock of time ticks above us all."

Born in Sydney in 1974, Hanley is currently studying for a Bachelor of Fine Arts at the National Art School, Sydney. In 2005, he had work accepted for the Australian War Memorial collection. This is his first time in the Archibald Prize.