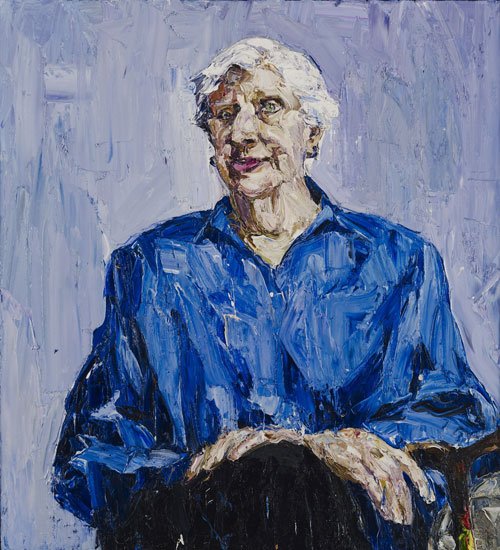 Nicholas Harding
Margaret Whitlam
Medium

Oil on linen

Read label text

Prominent Australian personality Margaret Whitlam is the wife of former Prime Minister Gough Whitlam and a published author, social worker and one-time champion swimmer, representing Australia at the 1938 British Empire Games in Sydney. She was made an Officer of the Order of Australia (AO) in 1983 for Services to the Community.

"I always wanted to somehow acknowledge coming of age in the Whitlam years and giving out how-to-vote forms for Labor well before I could vote," says Nicholas Harding. "Gough has been painted many times (Clifton Pugh won the Archibald with a portrait of him in 1972) and my art dealer, Rex Irwin, said: 'Why not paint Margaret?'

"So, as our mutual friend, Rex arranged a lunch for us to meet, following which Margaret and I spent a number of delightful mornings at the Whitlams' apartment chatting as we drank coffee and ate biscuits while I attempted to draw. The resulting portrait was hung in the 2003 Archibald Prize. However, I always intended to achieve a second, more successful painting of her."

Late last year, Harding began work on the new portrait. Initially the composition came together quickly but the expressive likeness was missing. "I prefer to work alone in the studio from memory," says Harding, "so Rex arranged another lunch. It was a very convivial occasion with Margaret in sparkling conversational form. Sitting opposite her, I was able to see her expressive form as it needed to be painted and I immediately returned to the studio and finished the portrait."

Born in London in 1956, Harding came to Australia in 1965. He began his career as an animator, illustrator and painter but has painted full-time since 2000. He has had regular solo exhibitions since 1992 and was a finalist in the Archibald every year between 1994 and 2006, winning in 2001 with a portrait of John Bell as King Lear. He was Commended in 1998 for a portrait of Margaret Olley and Highly Commended in 2005 for a painting of Robert Dickerson, which also won the People's Choice. He won the Dobell Drawing Prize in 2001 and has also been a finalist in the Wynne, Sulman and Doug Moran National Portrait Prize.