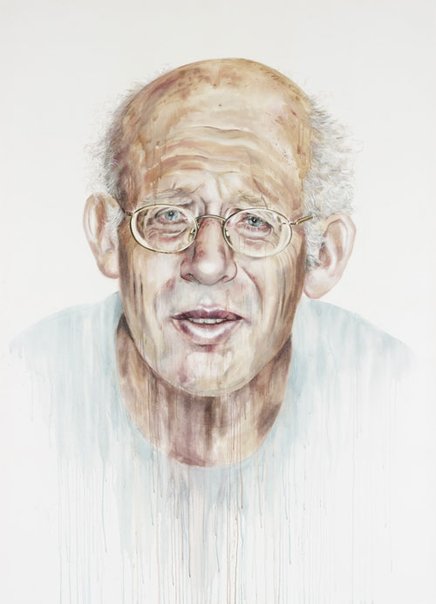 Cherry Hood
David Helfgott
Medium

Watercolour on canvas

Read label text

Renowned pianist David Helfgott was the subject of Scott Hicks' film Shine, for which Geoffrey Rush won a Best Actor Academy Award.

A child prodigy, Helfgott won a scholarship to London's Royal College of Music at age 19. Unfortunately, illness overtook him in 1970 and he returned to Australia. He began playing the piano again in the 1980s and after one performance in a Perth restaurant met and married Gillian. Returning to the concert stage and recording studio, he was the top-selling classical artist of 1997 and maintains a busy international touring schedule.

Cherry Hood saw him perform at a small theatre in Mittagong. "Watching and listening to David play was totally spellbinding and totally unexpected," she says. "His extraordinary music merges with his powerful magical persona to give his audience a most moving and lingering gift. His personality is irresistible – you immediately fall in love. Part way through the concert, I knew I wanted to paint him."

With the generous help of Gillian Helfgott, a sitting was arranged. "To be close to David, to sit with him at the piano for hour upon hour was one of the greatest and most moving privileges of my life," says Hood. "To feel the music with and through my whole body, and to talk with David was an unforgettable experience. It was very difficult to leave him."

The painting came easily. "David had provided me with all the inspiration I needed," says Hood. "So much of his emotion is represented in his wonderful face. Even so, I know that this painting can only express a moment and a fragment of it."

Born in Sydney, Hood has a Bachelor of Visual Arts (Hons) and a Master of Visual Arts from Sydney University. This is her fourth time in the Archibald Prize, which she won in 2002 with a painting of pianist Simon Tedeschi. In 2005, she retreated from Sydney to live in the bush near Goulburn, NSW after several very hectic years of solo exhibitions in Australia and overseas. She continues to exhibit regularly, painting her signature oversized watercolour faces but is now also exploring the landscape and environment around her.