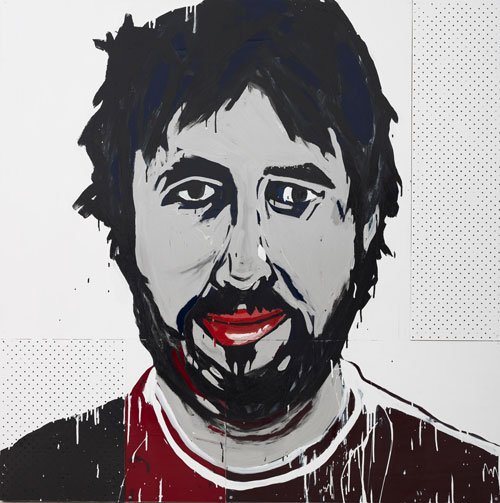 Jasper Knight
Jasper Knight
Medium

Enamel, masonite and Perspex on board

Read label text

Jasper Knight is known for his bold mixed media works constructed out of plywood, Perspex, masonite and other recycled materials such as old signs. Playing with the different textures, he uses enamel paint to create an interesting tension between the painting and sculptural aspects of the work.

Knight has been an Archibald finalist three times before with portraits of former NSW Premier Bob Carr in 2007, his grandfather, Sir Harold Knight, in 2006 and conductor Richard Gill in 2005.

After trying to do too much with a portrait of another public figure last year, which didn't get selected, Knight decided to take the pressure off with a self-portrait. "It's quite confronting having to organise a sitter and you don't always get a lot of time with them," he says. "Even though I'm friendly with Bob Carr it took a year to organise and I had to fit into little slots in his timetable so there was a lot of pressure to deal with in terms of painting a former Premier and having the work hung. It's also harder to do a warts-and-all portrait of a public figure. Painting my grandfather or Richard, who I know really well, allows you to focus more on the painting than on the prized scalp so I decided to do myself this time."

Knight paints quickly in a fresh style. Here, he captures the scar on his nose with a blob of white paint while the hair, which looks as if he's thrown it onto the canvas, has movement and depth. He has used a pared-back, subdued palette. "Usually my works are much more explosive in their use of colour," he says. "I think it looks much more painterly than most of my paintings." Painted quickly over two days, Knight admits the portrait has "a stylised caricatured feel" but says: "it looks like I look: messy, dishevelled, a bit sad but also bubbly."

Born in Sydney in 1978, Knight has a Bachelor of Arts (Electronic and Temporal Art) from Sydney College of the Arts, University of Sydney and a Master of Arts (Painting and Drawing) from the College of Fine Arts, University of NSW. He won the 2008 Mosman Art Prize and was a finalist in the Wynne Prize in 2005 and 2006. He has also been a finalist in the Blake Prize for Religious Art, the ABN-AMRO Prize and the Helen Lempriere Sculpture Award.