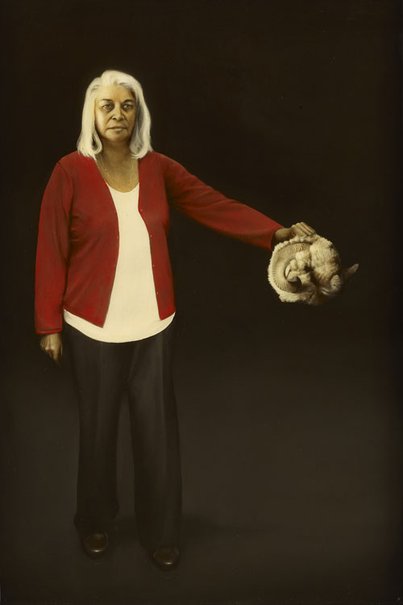 Sam Leach
Marcia Langton
Medium

oil and resin on wood

Read label text

Academic and writer Marcia Langton is Professor of Australian Indigenous Studies at Melbourne University.

'Marcia is a brilliant thinker and a very warm and engaging person,' says Sam Leach. 'I was struck by the clarity and force of her ideas. The ram's head she is holding is a symbol of power and force, as with a battering ram. At the same time, it is a reference to the period in Australian history when the killing of cattle or sheep to replace the loss of the local game was seen as poaching and brought about swift and violent reprisals on Aboriginal people.'

Sam Leach is known for his exquisitely rendered paintings that reference the techniques and motifs of 17th Dutch painting. Very often – as in this case – the work is small with labour-intensive detailing to encourage an intimate and individual encounter with the work. The painting is coated in resin, which forms reflective and protective barrier that isolates it from the world around it. At the same time, the reflection draws the viewer into the picture.

Born in Adelaide in 1973, and now based in Melbourne, Leach has a Bachelor of Arts, Honours (Painting) and a Master of Art (Fine Arts) by research from RMIT University. This is his third consecutive year in the Archibald Prize. He had three solo shows last year and another in 2007 and has participated in various group shows. He won the Eutick Memorial Still Life Award in 2007 and the Metro5 Art Award and Fletcher Jones Prize in 2006.