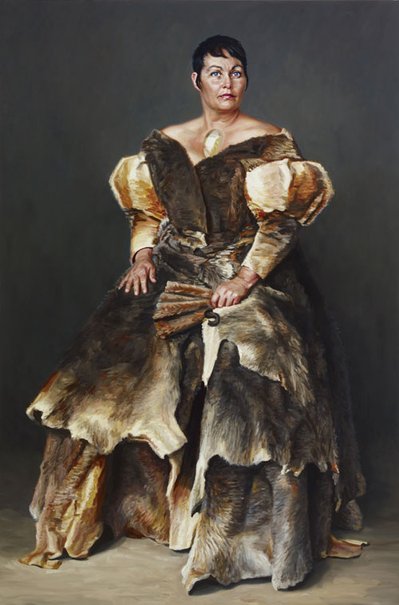 Mathew Lynn
Heiress
Medium

Oil on canvas

Read label text

Artists Mathew Lynn and Joan Ross both live at Blackheath in the Blue Mountains. "At the pool one day I was inspired by the fur-like haircut she had then, and I asked if I could paint her somehow clothed in kangaroo fur, as this has been an important material in her own work, along with colonial imagery," says Lynn. "As we talked, this became the catalyst for her to make this colonial style dress, an artwork which she wore at the opening of her recent solo exhibition, Come a little closer. Eventually we had sittings and she became the 'Heiress', an image that is meant to resonate with all the complexities of the meeting of Indigenous and European culture and experience in our country.

"The Heiress could be many things," says Lynn. "She is a beneficiary, possibly unaware of what she is actually wearing, perhaps in the process of becoming something else, but only seeing a beautiful fabric dress in her mirror. Is she a Bunyip Infanta of her own grass castle who has literally and shockingly 'fashioned' her reality in terra nullius, the victor of her own history war? Perhaps she is drifting nowhere, tradition-less, oblivious to a greater universe that is obscured by her 'success'? Alternatively, she may be fully aware of her change, and the decorative shell may actually be growing from her body as a result of her evolution. Is she now a custodian? Perhaps she is of the past and the future, is she something new?

"Beyond these possibilities, she is fundamentally the powerful and massive originary female, and the dress becomes the rock of the towering escarpments of sandstone and ironstone found in the beautiful place we both live, the upper Blue Mountains. And, of course, it is also Joan, who people will know as wonderfully eccentric and a prominent contemporary artist."

Ross currently exhibits with Gallery Barry Keldoulis and teaches at the College of Fine Art, UNSW.

Born in Sydney in 1963, Lynn has been an Archibald finalist on 11 previous occasions. In 1997 he was runner-up and voted People's Choice for his portrait of Jeanne Ryckmans. He was also Highly Commended in 1998 for a painting of artist Guan Wei. He has been a finalist in the Wynne and Sulman Prizes.