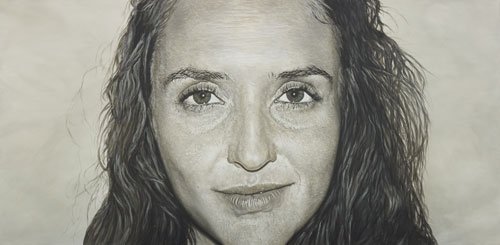 Angus McDonald
Beyond
Medium

Oil on canvas

Read label text

The subject of Angus McDonald's portrait is Zoë MacDonell, a full-time artist. "She is my partner and also a painter so I knew that when I yelled at the canvas periodically as it veered off in some direction I didn't want it to go, she wouldn't take it personally," says McDonald.

The portrait title, Beyond, refers to "the dreams of this world and others that inhabit her," says McDonald. "It could also refer to all that I have discovered about her in the process of making the painting – that's why I asked her to sit for me: to learn more about her and to reveal something intrinsic that you don't always see. That's my perception of portraiture."

McDonald decided on a large-scale work in order to find his way "through the pores and details of her face to what's underneath. Zoë is very talented, strong and loving. She can be dead serious and flippant in the same moment. She is inquisitive and determined. She writes long organised lists and then wanders off mentally for long stretches. Her own work is like that: beautifully observed small details found amidst huge ethereal landscapes. At times she has a look in her eyes that seems almost ageless; it's a quality in her that I wanted to convey," he says.

MacDonell first sat for the portrait last August when McDonald did a rough painting then put it aside to work on other pieces. Returning to it several months later, he finished it within a week. "It's a big picture and during meals that week, Zoë's face looked strangely small in real life," he says, "but her presence was greater than ever."

Born in Sydney in 1961, McDonald studied at the Julian Ashton art school in Sydney. He was awarded the Brett Whiteley Scholarship in 1994 and studied at the Florence Academy in Italy for two years from 1999. Since 1995, he has had over 20 solo exhibitions in Australia, Japan and the UK. In 2008 he was a finalist in the Dobell Drawing Prize, the Country Energy Landscape Prize (Highly Commended), the JADA Drawing Prize, the Montalto Sculpture Prize and the Australian Studio Furniture Design Awards, where his collaborative piece won a major prize. This is his first time in the Archibald Prize.