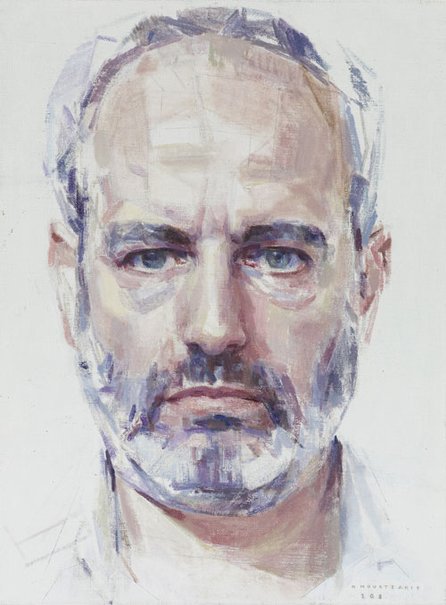 Nick Mourtzakis
A portrait of Alex Wodak
Medium

Oil on linen

Read label text

Alex Wodak is Director of the Alcohol and Drug Service at St Vincent's Hospital and President of the Australian Drug Law Reform Foundation. An internationally acknowledged authority on minimisation of harm in drug use, he helped establish the first needle syringe program in Australia and the first medically supervised injecting centre. He often works in developing countries on HIV control among injecting users.

Nick Mourtzakis first became aware of Dr Wodak's advocacy work through the media. When he met him via his brother Jack Wodak, a Melbourne neurologist, Mourtzakis was immediately struck by the intensity of his presence. "His demeanour expressed a formidable and concentrated reserve while his gaze suggested a clear and penetrating insight," he says.

Mourtzakis began work on the portrait with drawings made at formal sittings, which he then developed in an entirely exploratory way in his studio. "On several social occasions when Alex was visiting Melbourne, I took the opportunity to surreptitiously continue to study the structure of his features and his most characteristic expressions," says Mourtzakis. These informal 'sittings' proved invaluable.

In the process of exploring the topography of Wodak's face, a surprisingly large drawing of approximately two by one metres developed. After completing this large work on paper, Mourtzakis says: "it became possible to concentrate all of the assimilated 'visual data' in the final portrait on canvas."

Born in Greece in 1950, Mourtzakis came to Australia in 1954 and lives in Melbourne. An exhibiting artist since 1976, he completed a Master of Art from the Victorian College of the Arts in 2004. He won the Dobell Prize for Drawing in 2000 and again in 2006. In 2000, the Australian-Greek Association honoured him with the Hellenic Distinction Award. Recent group shows in which he has participated include This & Other Worlds at the National Gallery of Victoria in 2005 and The Seventh Drawing Biennale at the Australian National University, Canberra. This is his first time in the Archibald Prize.