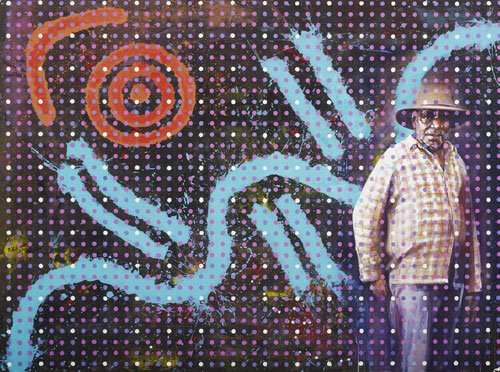 David Paulson, Michael Jagamara Nelson
Michael Nelson Jagamara & singing rain story
Medium

Acrylic on linen

Read label text

This portrait is a collaborative piece in which David Paulson's portrait of award-winning Aboriginal artist Michael Nelson Jagamara is integrated with a work of Jagamara's called Old Man Singing Rain. Paulson has made sure that much of the colour and stories from Jagamara's original painting remain dominant.

The two artists have known each other for over 10 years through Fireworks Gallery in Brisbane, which represents them both. They were finalists in the 2007 Archibald Prize with another collaborative work in which Jagamara painted his kangaroo paw totem as part of a portrait of the artist by Paulson.

Jagamra is a senior Warlpiri artist from Papunya, Central Australia. He is custodian for numerous traditional stories, which have been passed down to him, essentially from his father's side. These include the Old Man Dreaming stories from Kunajarrayi (which is sacred men's business) and rain and lighting stories, both of which feature in his painting Old Man Singing Rain.

"The traditional Aboriginal artist sees himself through the spiritual, in signs and totems," says Paulson. "The white western artist contextualises imagery through a history of the portrait and reproductive processes such as digitalisation. Through the veil of dots I have portrayed a coming-together of these two disparate visual cultures."

Paulson now lives and works in Maleny, 100 kilometres north of Brisbane. He studied Fine Arts at East Sydney Technical College and has a Master of Fine Arts from the University of Tasmania. A fine draftsman with a longstanding reputation as a teacher of life drawing, central to his art practice is a contemporary reading of the figure. He was represented in the sixth Sydney Biennale in 1986 and the Dobell Drawing Prize in 1998. He was also a finalist in the 2004 Archibald Prize with a portrait of Aboriginal artist Richard Bell.