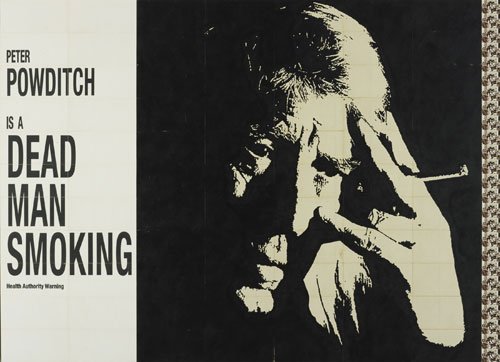 James Powditch
Peter Powditch is a dead man smoking
Medium

Mixed media

Read label text

The subject of James Powditch's portrait is his father Peter – a celebrated artist who was awarded the Order of Australia Medal (AM) in 1984 for services to art. Winner of the 1972 Sulman Prize, his work is held in the collections of the National Gallery of Australia and all the state galleries.

"My father smokes heavily, 60 to 80 a day," says Powditch. "He has always been a smoker and thinks of himself as a smoker. He believes that smoking is part of his character and even his work method. But at 66 he has acute emphysema and a cough so bad that it can be near impossible for him to hold a conversation. It feels like I have talked with him about quitting forever but he is now smoking with an intensity and purpose that seems like a death wish. The sad truth is that he will die from a lifetime of smoking. He will die younger than he should and in a way that he shouldn't. I would like him to stop smoking now so that he can be with us for as long as possible and he can make that choice."

Powditch spent two weeks with his father last Christmas and over many nights they both drank and talked and his father smoked. He took hundreds of photographs and settled on an image that conveys his own sadness and the bleak reality of an aging man killing himself. The text delivers a blunt message and is a play on the film title Dead Man Walking. The strip of photographs are of the Powditch family in Taree, 1979. Peter (in the dark blue t-shirt) sits beside his father and to the right of one of his signature Sun Torso works from the 70s.

James is in the light blue, and his three sisters sit in the foreground, pretending to smoke. The image was used on an invite for an exhibition Powditch held with his father at Ray Hughes Gallery in 2003.

Born in Sydney in 1966, Powditch won the 2007 Mosman Art Prize and was a co-winner of the 2005 Blake Prize for Religious Art. He was hung in last year's Archibald Prize with a giant billboard of actor Aden Young and is in this year's Wynne Prize for the fourth time. He has also been a finalist in the Sulman Prize five times.