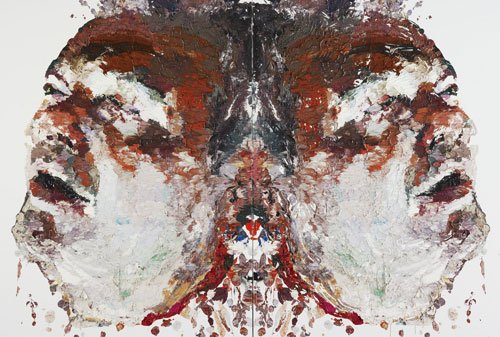 Ben Quilty
Jimmy Barnes – there but for the grace of God no. 2
Medium

Oil and aerosol on linen

Read label text

As lead singer of legendary Aussie rock band Cold Chisel and an equally successful solo artist, Jimmy Barnes is one of the best-selling Australian musicians of all time. A reformed drug user, he is now an outspoken pro-family, anti-drug advocate.

Ben Quilty first met him when he and fellow Cold Chisel member Don Walker performed at a fundraiser for the AGNSW. "It's a band I grew up listening to so it was an emotional experience," he says. "Before that, I'd seen Jimmy on Enough Rope with Andrew Denton talking about his massive heart surgery and health issues due to his drug use. That's what this painting is about."

Quilty's work, thick with luscious paint, is frequently about life in the fast lane. The works often feature mean machines, heavy-metal icons and young men bingeing on drugs and alcohol. He explores the initiation processes young men perform in our society. "It was important for me to paint someone who those young men look up to, who has been able to give up drugs and alcohol completely for his family and for his health," says Quilty.

Though Barnes doesn't touch a thing these days, Quilty asked him to act as if he were totally inebriated, head lolling back, eyes rolling in their sockets. He built up the image in his signature impasto style and then literally squashed the heavily laden surface against another blank canvas creating a perfect geometric copy. Quilty imitates the ink blot tests created by Hermann Rorschach, an early 20th century psychoanalyst. "I wanted it to appear as though Jimmy's head had been pealed back, his skin left behind. And the original image has been destroyed…the glorification of decline."

Born in Sydney in 1973, Quilty has a Bachelor of Visual Arts (Painting) from Sydney College of the Arts and a Bachelor of Visual Communication from the University of Western Sydney. He won the 2002 Brett Whiteley Travelling Art Scholarship and has worked as a full-time artist since, exhibiting in 15 solo shows and numerous group exhibitions. From May – July, the University of Queensland Art Museum is showing the first survey exhibition of his work Ben Quilty Live!, which then tours to TarraWarra Museum of Art in Healesville. This is his fifth time in the Archibald Prize.