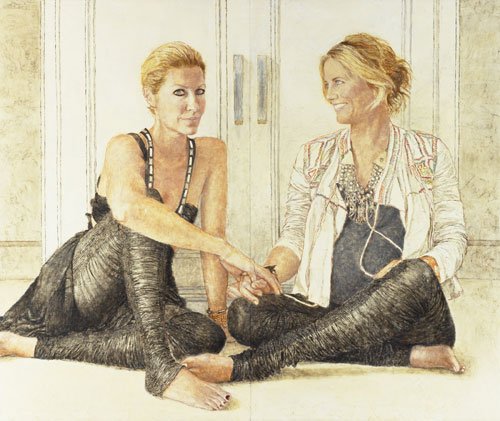 Jenny Sages
Heidi & Sarah-Jane 'parallel lives'
Medium

Encaustic, oil and pigment on board

Read label text

This is the 18th time that Jenny Sages has had a portrait hung in the Archibald Prize. "I feel privileged to have met so many people of all ages and backgrounds whose work I admire and respect through my artwork," she says.

Sarah-Jane Clarke and Heidi Middleton are the design duo behind the internationally renowned Australian fashion label Sass & Bide. The influential pair made their mark with innovative denim designs when they founded the label in 1999, but quickly expanded into sexy, seasonal ready-to-wear and then a luxury collection too.

Last year their international profile leapt thanks to a pair of leggings they designed called Black Rats, which won them a coveted Selfridges window display.

"Everyone knows Heidi and Sarah-Jane but rather than present them in a business context, I wanted to do a personal portrait of gorgeous, talented young women who are also wives and mothers," says Sages. "Heidi has two daughters and when I painted them, Sarah-Jane was expecting her third son. Their friendship goes back a long way and is vital to them both in life as well as in work. They overlap each other, sharing parallel lives."

The process of painting the portrait went very smoothly. "I just followed them around as they sat and talked softly to each other," says Sages. "I loved the doing of it. It took me five weeks, walking up to my studio each day to work on a painting that did not fight me back."

Born in Shanghai of Russian parentage, Sages came to Australia in 1948. She studied at East Sydney Technical College, in New York and then with John Olsen and Mary White. After freelancing as an illustrator for 30 years, she has painted full-time since 1985. She has been highly commended in the Archibald seven times, most recently in 2006 for her portrait of artist Hossein Valamanesh. She won the Wynne Prize in 2005 and the Portia Geach Memorial Award for portraiture in 1992 and 1994. Her work is represented in numerous public and private collections including the National Portrait Gallery and the AGNSW.