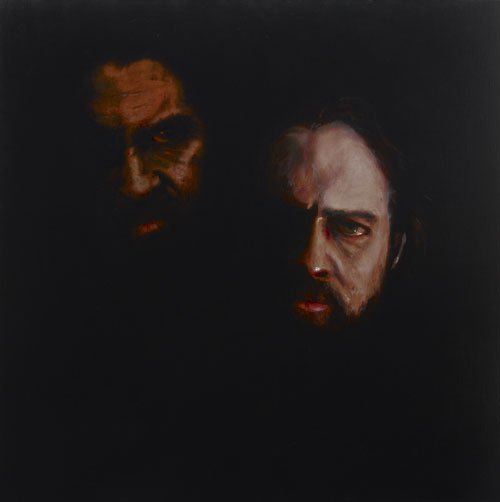 Megan Seres
The rest is silence (Brendan Cowell as Hamlet)
Medium

Oil on linen

Read label text

Megan Seres did the paintings used in Love My Way for Claudia Karvan's character, artist Frankie. It was there that she met Brendan Cowell, who co-wrote and starred in the award-winning Australian television drama series. Cowell then asked her to do a painting for his 2005 short film Europe.

"Brendan is a man of ferocious spirit, energy and audacity," says Seres. "I find him inspirational; he has taught me that taking risks can lead to the most exciting moment. He has the ability to see through darkness and perceive truth in human nature. This was why I asked him to sit for me."

Last year, Cowell played Hamlet for Bell Shakespeare. In an interview about the production he said: "you wake up all the little children in your head and it's hard to put them back to sleep."

"After the death of Hamlet's father, the over-analytical Hamlet is besieged with suspicions, apparitions and wild imaginings," says Seres. "Like Goya's macabre Black Paintings, with their images of monsters, ghouls and other supernatural figures, Hamlet's dark and disturbing journey was brought into the light by Brendan's ability to let the darkness slide out of the hidey-hole of his imagination into the heart of truth.

"In my painting, I have tried to embody the inner turmoil, vulnerability and sense of impending doom that Brendan portrayed so beautifully as Hamlet. The ambiguity of Hamlet's last line, 'the rest is silence', was incredibly alluring as a title."

Born in Sydney in 1962, Seres graduated from the National Art School with Honours in 2004. In 2005, she was awarded a residency at Bundanoon. She has exhibited since 1998. She was represented in the 2001 Blake Prize and touring exhibition, the 2003 Mosman Art Prize, the 2008 Crockett Group Art Prize, and won the 2004 Redlands Art Prize. This is her first time in the Archibald.