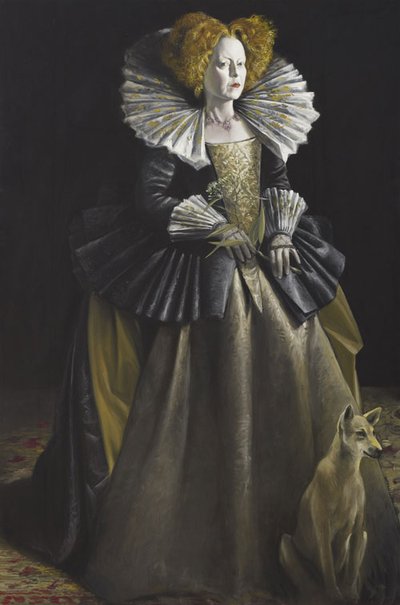 Mark Thompson
Greta Scacchi as Queen Elizabeth in Mary Stuart
Medium

Oil on canvas

Read label text

Internationally renowned star of stage and screen, Greta Scacchi is best known for her many film roles. However, the Italian-born Australian actor has also won acclaim on the Australian and British stage.

Last year, she received a Sydney Theatre Award Best Actress nomination for her memorable portrayal of Queen Elizabeth in the Ensemble Theatre production of Schiller's classic play Mary Stuart. Mark Thompson painted her in costume after a performance.

A theatre designer, Thompson met Scacchi in the early 1990s on a production of The Doll's House in Perth. Having got on well then, he plucked up courage nearly 20 years later to ask if she'd sit for a portrait.

"She was a gorgeous young slip of a girl back then and gaining notoriety as one of the most frequently undressed film actors," says Thompson. "It's quite ironic because although she's earthy, there's also a lovely primness about her, particularly now that she's a mother.

"As Elizabeth, Greta totally denied her own looks. She really wanted to be the Queen in full white face with that skinny-eyed stare and lips painted to look like two pieces of string or laser beams. She also loved the wonderful red fright wig and the fact that from a distance the high forehead worked. After two hours of performing, however, you could see the cracks in the greasepaint. I wanted to catch her like that, after two hours of work, in that hour after the show when an actor is coming out of character. It's a lovely transformation. Unlike some women, Greta didn't want to be portrayed as younger and more glamorous than she now is, but as the character."

Thompson did a couple of life-sized head studies and having "cracked it" moved onto the painting, which flowed easily.

Born in Darwin in 1949, Thompson studied at the South Australian School of Art and East Sydney Tech. He is currently working on a series of paintings to be exhibited in September of Australian theatre artists among them Nancye Hayes, Judi Connelli, Joelene Anderson, Paul Capsis, Garry McDonald and Jonathan Biggins.