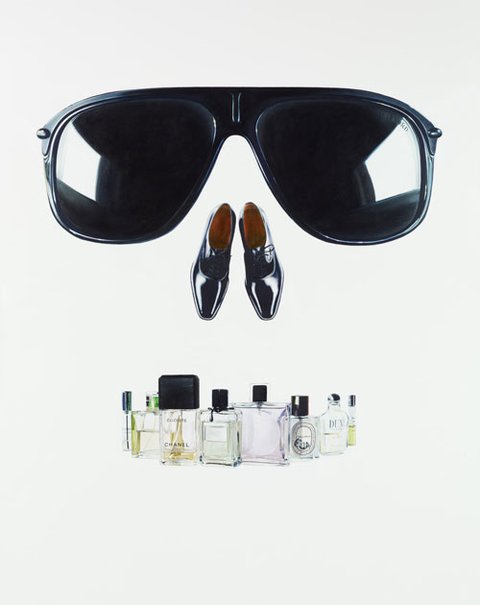 Michael Zavros
Ars longa, vita brevis
Medium

Oil on canvas

Read label text

"Hippocrates' wisdom that art is long, life is short – Arts longa, vita brevis – is a profound truth," says Michael Zavros. "As a title for my self-portrait it references a long tradition of memento mori painting in which material wealth would be displayed as part of a tableaux that would include a skull or a plate of decaying fruit, as a metaphor for mortality.

"In painting a self-portrait I wanted to move away from a literal representation of myself, and I was thinking about how contemporary society's attitude of conspicuous consumption encourages the consumer to see material things as the evocation of one's personality. This idea, that somehow the labels you wear should reflect your true essence, is a triumph of marketing. It's like the Biblical invocation of a false God.

"All of the objects in the painting I possess, so I count myself a consumer. I am not immune to the lure of beautiful things: I covet these objects. The collective shape of the objects is intended to suggest a skull (my own) and in that sense I am confronting my own mortality, questioning what might be my legacy. Will it be the things I leave behind or that which I create or are they, in fact, the same thing? While it is a self-portrait, I see it as an extension of my larger practice, which explores a kind of contemporary attitude of disaffection, or ennui. I know I will die but will I leave a good looking corpse?"

Born in Brisbane in 1974, Zavros graduated from Queensland College of Art with a Bachelor of Visual Arts in 1996. He was awarded the Australia Council Visual Arts/Craft Fund Milan Residency in 2001 and Barcelona Residency in 2005. He was also awarded a Cite International des Arts Residency in Paris in 2003 through the Power Institute, University of Sydney. He has exhibited both as a solo artist and in numerous group shows. Prizes include the 2007 Keduma Drawing Award, the 2005 Robert Jacks Drawing Prize, the 2004 Primavera Collex Art Award, and the 2002 Jacaranda Acquisitive Drawing Award. This is his fourth time as a finalist in the Archibald Prize.