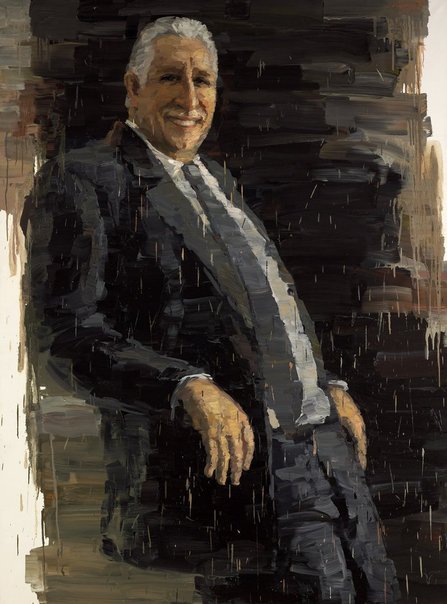 Kordelya Zhansui Chi
Mr Walker
Medium

oil on linen

Read label text

Max Walker is a former Australian Test cricketer. He also played football in the VFL and AFL. He is now a much-loved sports commentator as well as a successful entrepreneur, author and motivational speaker.

With a life-long passion for the arts, Walker is an ambassador for the National Gallery of Victoria.

'His voice is so distinctive,' says Chi. 'Even if we aren't followers of sport or active in the business community, we recognise the Tasmanian drawl and unique vocabulary. The sound is instantly Max Walker.

'In person, Max often surprises people. Many don't realise he is so tall and broad. Perfectly groomed, he is the picture of confidence and success. His charm, warmth and sincere interest in everyone and everything around him make meeting Max a memorable experience.'

Featured regularly on film and television, and captured in photographs, paintings and countless caricatures, Chi says she sought Walker out to learn for herself 'what it was that attracted so much artistic curiosity. There are the twinkling eyes, the nose that has been broken many times in sporting events, the smooth skin and distinguished white hair. But it was the smile that captured my attention. I chose to capture his open face and the way it radiates so much joy and goodwill … Throughout the preparation and sittings, I found Max to be totally interested in my work, co-operative and ready to share a passion for art, as well as giving encouragement and support.'

Born in China in 1967, Chi graduated from the Fine Arts Institute of Guangzhou in 1986 with a Bachelor of Arts. She is now based in Melbourne but maintains a studio in China and goes back there regularly to work. She has had solo exhibitions in Beijing, Guangzhou and Taipei. This is her fourth time in the Archibald Prize. She has also been a finalist in the Portia Geach Memorial Award in which she was highly commended in 1995 and won the People's Choice Award.