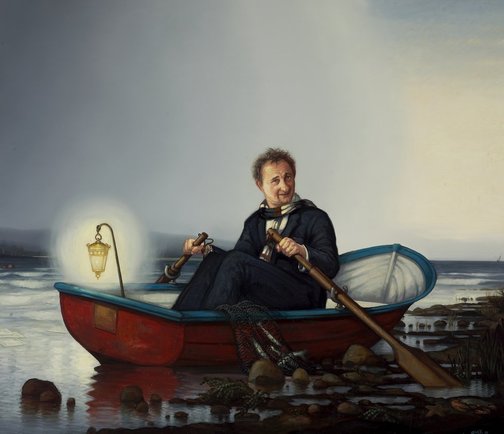 Alexander McKenzie
Andrew Upton
Medium

oil on linen

Read label text

Writer/director Andrew Upton is co-artistic director of Sydney Theatre Company with his wife Cate Blanchett. They have three young sons.

Introduced by a mutual friend, Alexander McKenzie says they hit it off immediately, talking about art, creativity, writing and theatre. 'We found much common ground – both being fathers of young children and constantly trying to balance parenting and creative work.'

McKenzie set out to paint Upton in a more formal way, in the theatre or writing, but says he 'couldn't get away from the image of him in a boat. Andrew had told me about his childhood rowing boats on Pittwater and, in the end, I knew this was how I should paint him.'

As ever in McKenzie's work, the painting is full of symbols. Here, he sees 'the boat as the family and Andrew's role as the father, akin to the captain rowing and steering the family along life's journey. The catch of fish is a reference to the children, while the light and marker buoy indicate the direction of the boat.'

The portrait was made in McKenzie's studio from sittings done at Sydney Theatre Company. 'As with all my work, the composition is a construction, in this case based on elements of Andrew's life and my own,' he says.

Born in Sydney in 1971, McKenzie is predominantly a landscape painter, renowned for large works that radiate light and mood. This is his fourth consecutive year in the Archibald Prize. He is also a fifth-time finalist in this year's Wynne Prize and was represented in the 2009 Blake Prize for Religious Art.