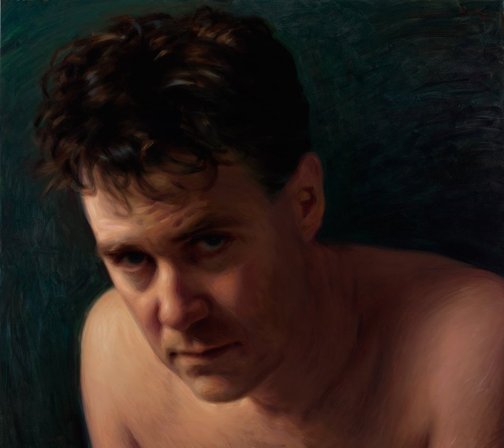 Paul Newton
Self portrait #2 – dark night of the soul
Medium

oil on canvas

Read label text

Paul Newton's father died in late January after a long battle with emphysema. In the days following his death, Newton found himself unable to sleep, concentrate or work on the commissioned portrait he had on his easel.

'I remember seeing my haggard, unshaven face reflected in the mirror one morning – I looked dreadful,' he says. 'I decided to attempt to capture this image of myself in paint as a way of cathartically dealing with my feelings, by putting them on canvas and objectifying all that I felt. As the portrait developed I could see in it something of my father, the way we are struck by our resemblance to a parent as we ourselves age, and also in the forward leaning posture his illness had forced him to adopt toward the end of his life.

'The phrase Dark night of the soul is the title of a poem written by 16th century mystic St John of the Cross and is a metaphor for the sense of desolation and lack of sensory consolation experienced by the soul at times during the lifelong search for her divine lover,' says Newton. 'It is analogous to the barrenness that befalls one when confronted by the death of someone to whom you were very close, as our senses fail to perceive beyond the grave. This portrait, painted feverishly in a week and a half, is a lot rougher and less refined than I would normally work. I was glad to have it leave my studio and I still find it difficult to look at.'

Born in Sydney in 1961, Newton is a well-known, much-commissioned portrait artist. This is his ninth time as an Archibald finalist. In 2001 he won the People's Choice Award and the Packer's Prize for his portrait of Roy and HG. This is the second self-portrait he has submitted for the Archibald. The first was a finalist in 2004. He was also a finalist in the 2008 Shirley Hannan National Portrait Prize with another self-portrait. He has twice been a finalist in the Doug Moran National Portrait Prize, and twice won First Place in the Portrait Society of America's International Portrait Competition.