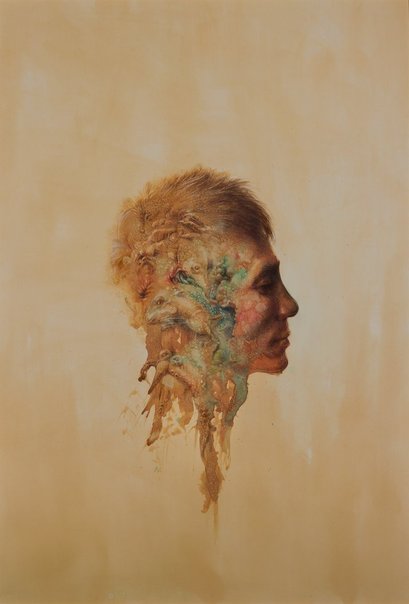 Khue Nguyen
Unleashed
Medium

watercolour and pencil

Read label text

Khue Nguyen's self-portrait expresses the complex and difficult emotional journey he has travelled to arrive at the relatively happy place he finds himself today.

Born in communist Vietnam into an artistic but excessively strict family, he was never able to admit openly that he was gay. 'It has taken me a long time to reach the stage where I can say: 'this is who I am.' It's now the right time. I am now very comfortable with who I am,' he says.

Nguyen does a lot of meditation. 'You see a lot of things when you meditate – it's almost impossible to have a pure, blank mind. You don't want to see things, you focus on your breathing, but when things appear in your mind you just observe them. One thing tends to transform into another so here you can see the head of one animal becoming the body and tail of something else. The colours are also moving.'

There are many references in the self-portrait to where Nguyen has come from, culturally and personally. Showing his lips sewn together refers to the lack of freedom of speech in Vietnam and his inability to express himself honesty and be open about his sexuality. 'The octopus at the bottom suggests that my culture grounds me and is still rooted in me but holds me back,' he says. 'As in any culture, there are good things and bad things about the Vietnamese culture.'

The reason he has painted his skin peeling off is that 'for too long I have not expressed myself. Now I am bursting out of my skin. I'm very comfortable with who I am now so my face looks calm and at rest. But at the same time I look like I'm searching for something because I am still learning about myself.'

Born in 1964, Nguyen studied at Ho Chi Minh University of Fine Arts. He escaped from Vietnam in 1987. He spent six months in a refugee camp in Malaysia before coming to Australia in 1988 as a political refugee. He works as a graphic designer and an artist. He had his first solo exhibition in 2006 and has won various art prizes. This is his first time in the Archibald Prize.