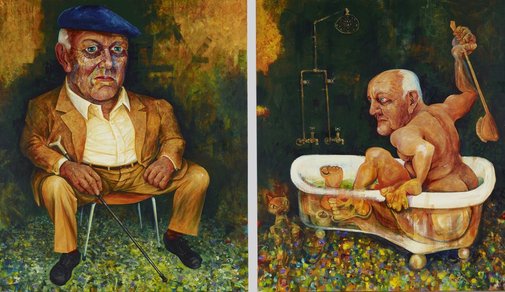 Victor Rubin
John Olsen - A diptych - part I seated: part II in his bath
Medium

acrylic on linen

Read label text

Victor Rubin first met revered Australian artist John Olsen in 1967 when he began studying at Olsen's Bakery Art School at age 17. They have kept in touch since. 'I regard him as a great mentor and good friend,' says Rubin.

When Rubin arrived at Olsen's studio among his influences were German expressionism and artists like Van Gogh but by the end of 1969 he had begun to make work more in line with the new tradition of Olsen, John Perceval and Sidney Nolan, which he embraced in his own distinctive way. 'Olsen's work and the vitality with which he attacks a painting seemed to me the way to go,' he says.

Rubin painted his first portrait of Olsen in the mid 1980s. Asking if he would consider sitting for him again for this year's Archibald Prize, it was Olsen who suggested painting him in the bath.

Rubin did a series of sketches, which flowed easily. The canvases proved more of a struggle as the diptych developed. Rubin experimented with several different versions for the bath painting before arriving at this composition. Various poses for the seated portrait were tested. 'It's a mixture of Rembrandt and Van Gogh but painted in the French tradition, which John and I are so attached to. He loves Matisse but also Soutine – it's the romantic and classical,' says Rubin. 'There is also a cubist element to the work with an emphasis on the monumentality of form that reflects his stature.' Rubin has used the green around the bath and figure and the Indian yellow at the top to link the public and private psyches of Olsen.

Born in Sydney in 1950, Rubin went from the Bakery to the National Art School. He has had over 40 solo exhibitions and is represented in all major state and federal galleries and many regional galleries in New South Wales, Victoria and South Australia. He is also represented overseas in the Museum of Fine Art in Taipei, Auckland City Gallery in New Zealand and private collections in Europe and America. His work was collected by the late Patrick White and Miles Davis.