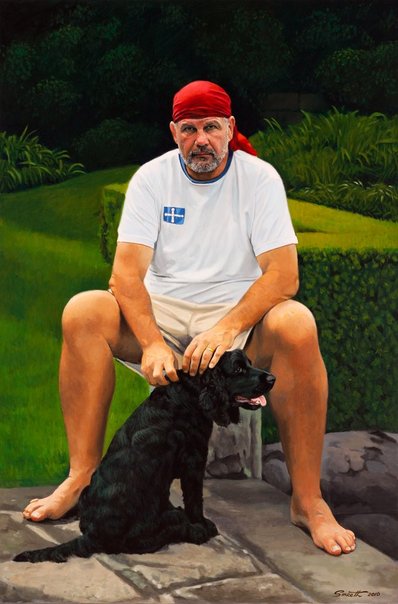 Peter Smeeth
Peter FitzSimons, author
Medium

oil on canvas

Read label text

'I have a couple of his books and I've been a reader of his column for years,' says Peter Smeeth. 'I heard him on ABC radio talking about his book Charles Kingsford Smith and those magnificent men and I thought he would be a great subject. He's a big man – two metres tall – and I wanted to convey that sense of mass along with the 'I don't suffer fools' look in his eyes.'

Smeeth visited FitzSimons at his Sydney home and spent a couple of hours with him chatting, sketching and taking photos. 'I basically asked how he would like to be painted and he said, 'this is what I'm like. I don't dress up. This is me.' He said that while some blokes his age get a red sports car, he has taken to wearing a red bandana, which his sons bought in Cuba. We went outside and the red bandana seemed to work well against the green background and his dog, Burkey, came over so I put him in.'

The portrait was painted in Smeeth's studio and involved over 200 hours of work.

Born in Griffith, NSW in 1949, Smeeth studied medicine at Sydney University and worked as a GP in the Entrance from 1974 to 2007. He became a full-time professional artist/portrait painter in 2008. This is the third time that he has been in the Archibald Prize. He has also been a finalist on three occasions in both the Doug Moran National Portrait Prize and the Shirley Hannan National Portrait Award. He has also been selected twice in the Salon des Refusés at Sydney's SH Ervin Gallery.