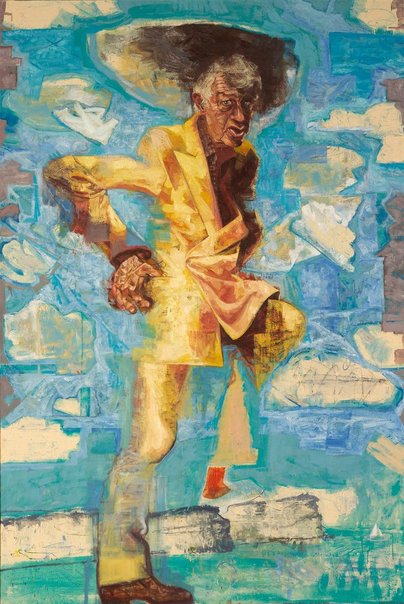 Ian Smith
Keith Looby alfresco
Medium

Oil and acrylic on canvas

Read label text

Ian Smith has known artist Keith Looby for 35 years and is a great admirer of his work. 'Keith has painted many portraits over the years,' says Smith. (Looby won the Archibald Prize in 1984 with a portrait of Max Gillies). 'His own face is all through his work, looking out of his paintings in the guise of priests, angels, popes and devils. But not many people have painted him. I'll be 60 this year and Keith will be 70 so it seemed a good time to paint his portrait.'

Born in Bondi, Looby has always loved the beach and is an outdoors person.
'But the painting also alludes to his strong Italian connection,' says Smith. 'He left Australia as a teenager in the 1960s to go on a world tour and ended up living in Turin and Rome for several years. I remember those first great paintings that he sent back from Italy to be exhibited in Australia.'

Looby returned to Italy to live in the late 1980s. 'I wanted to paint him like a grand old peeling fresco of his former grandeur,' says Smith. 'That's not bad: millions flock to Italy every year to see the peeling frescoes. New art always looks a bit plastic compared to those lived-in works.

'Keith has done some great paintings of North Head and he loves Sydney so I've pictured him looking outdoorsy with his foot on North Head like the unrecognised king of Sydney. He's a complex character. He agonises over everything – that's what makes his work great. But he always tends to have some little storm cloud hanging over his head. We love him for it – and the portrait is all done with affection.'

Born in Cairns in 1950, Smith has a Diploma of Art from Prahran College of Art and Design in Melbourne. Now based in Brisbane, he has worked as a full-time artist since 1979, exhibiting regularly since 1972. He is represented in the National Gallery of Australia, the Metropolitan Museum of Art in New York, the National Gallery of Victoria, Queensland Art Gallery and numerous regional galleries as well as private collections in Australia, Europe and the US. He has been an Archibald finalist on eight previous occasions with portraits of art dealer Ray Hughes.