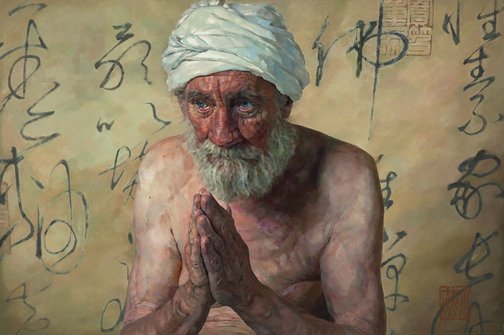 Apple Xiu Yin
The previous life
Medium

oil on canvas

Read label text

Terry English is a landscape artist and director of Hornsby Arts Council in NSW. When Apple Yin met him a few years ago, she immediately envisaged him on the Silk Road in the western mountains of China, 1000 years ago.

'One man walking along the Silk Road, shoulders slumped, dust spiralling in his wake. His head was covered with a headdress. His eyes had experienced many vicissitudes of life and were filled with pain and kindness. This was my immediate impression of him,' says Yin.

'His artworks have something of an Eastern style and are full of mystery and superstition. Buddhism always talks about life before and after death so I asked him whether he had ever been a traveller or a Buddhist on the Silk Road in a previous life. He laughed and said he liked the idea.'

Going with her first impressions, Yin decided to portray English as that traveller. She has used romantic, large, rough strong brushstrokes to portray English's gentle simplicity and dull, dark tones to convey a sense of ancient history. The background incorporates a famous 1600-year-old Buddhist calligraphy from the Tan Dynasty. In the top right hand corner there is a large Buddha character linking English's praying position to Buddhism.

'The painting not only refers to English's previous life but tries to answer questions such as "who am I? Where did I come from? Where am I going?"' says Yin.

Born into an artist family in China, Yin sees herself as a traveller journeying from an Eastern to Western culture and trying to find her own way in both. As a result, her art features both Eastern and Western influences. She graduated from Hornsby TAFE in 2009 with a Fine Arts Diploma. She was a finalist in the 2009 Doug Moran National Portrait Prize. This is her first time in the Archibald Prize.