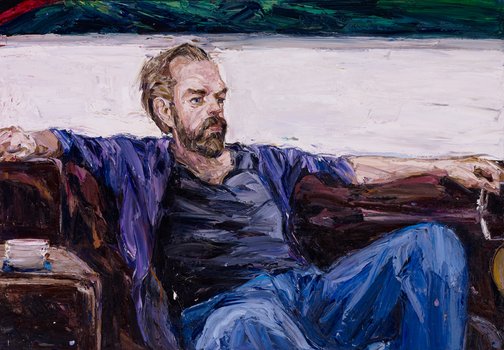 Nicholas Harding
Hugo at home
Medium

oil on Belgian linen

Read label text

Internationally acclaimed star of stage and screen, Hugo Weaving first came to Nicholas Harding's attention through his role in the 1984 TV mini-series Bodyline. Harding has admired his performances in film and theatre ever since in such work as The interview, The alchemist, The matrix, The real thing, V for vendetta, Little fish and Uncle Vanya among many others.

They first met when Hugo and his partner Katrina Greenwood's daughter, Holly, became friends with Nicholas and his partner Lynne's son, Sam, at school. Friendship grew through love of family, food, theatre, film, art, music, literature and landscape. About five years ago, Harding asked Hugo if he'd be willing to sit for a portrait sometime – and last year they finally got around to it.

'Hugo's love for family and home became the appropriate context for a portrait,' says Harding. 'Solutions to the compositional puzzle began to define themselves as drawing progressed in the Greenwood-Weaving lounge room, cups of tea close at hand. The landscape format evolved from the body language of the pose and imparts allusions of the stage and cinema screen, but most of all, the horizon.

'Hugo is a man of many horizons. I've sought to capture him in an unguarded, pensive moment, looking away to the garden outside to evoke a sense of privacy. Evidence of the Greenwood-Weaving family's creativity inhabit the living space and have become compositional satellites in the portrait: Katrina's painting hangs above, the edge of Holly's beloved ukelele can be glimpsed to the right and son Harry's red tree sculpture peeks in at the top left.'

Hugo at home is now in the National Portrait Gallery, Canberra.