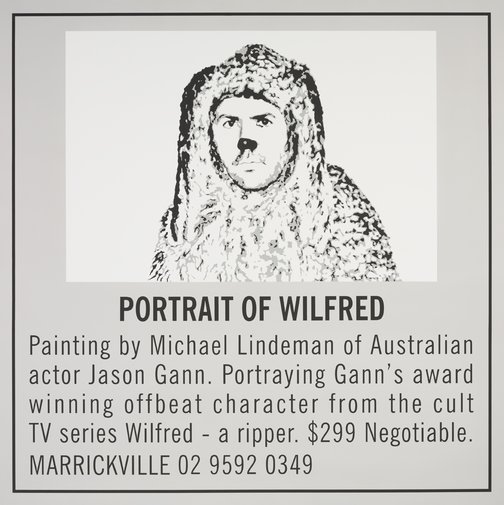 Michael Lindeman
Portrait of Wilfred
Medium

acrylic on linen

Read label text

Michael Lindeman won last year's Sulman Prize with a conceptual, text-based work featuring newspaper advertisements offering paintings for sale.

His Portrait of Wilfred is a natural development in his ongoing series of text-based paintings derived from published classified ads. He is interested in making paintings that replicate the printing process with a hard-edged slant. Australian actor Jason Gann's character and Lindeman's paintings are a perfect fit with their deadpan humour and irreverence.

Lindeman was moved by Gann's menacing performance as a smoking dog with abandonment issues in the SBS comedy series, Wilfred. 'I don't get a chance to watch much TV as I seem to always be in the studio but I made sure I had a break from painting to chug a beer and watch Wilfred,' he says.

Gann is currently writing and performing in a new series of Wilfred in the US on the FX Network alongside Elijah Wood. Both Gann and his character Wilfred are examples of the quintessential Australian man: honest, without pretence and a funny bastard.

Lindeman met Gann on a recent trip to Los Angeles where he commenced his portrait and tried to delve deeper into who Gann is, beyond the facade of an absurd dog suit. 'We talked about a wide range of things, a lot of it off the record,' says Lindeman. 'Jason said he hates playing Wilfred. Not only is the suit hot and uncomfortable, but he wanted me to capture the pain of playing the character. I think it's quite profound that the character of a mongrel Australian dog can serve as a vehicle for success internationally', adds Lindeman.