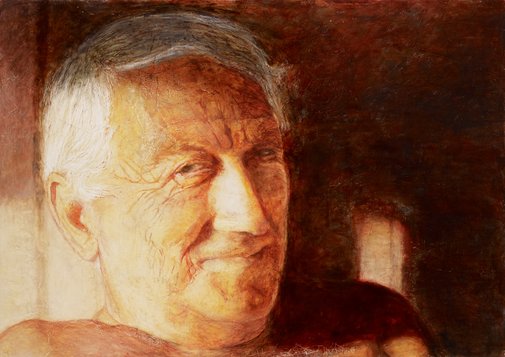 Jenny Sages
My Jack
Medium

encaustic oil and pigment on board

Read label text

Jenny Sages's beloved husband, Jack Sages, died on 1 October 2010.

'For our 55-year marriage I was his woman and he facilitated my need to work in every possible way,' she says. 'The MDF board on which this work is painted was the last one he built for me. I used it to make my first and only portrait of Jack. I started it in June last year and finished it on July 18th. He sat for me almost daily on our verandah.'

Jack is featured with his portrait in the documentary made by Catherine Hunter for the National Portrait Gallery to accompany Sages's solo exhibition Paths to portraiture, which opened in Canberra in 2010 and tours Australia until 2013.

Jack served in the British Navy during the Second World War when he was stationed in Alexandria in Egypt. Sages met him in Israel in 1954 while travelling the world after three-and-a-half years at art school in New York. After five days together, they were smitten – though another year passed before they would meet up again and decide to marry.