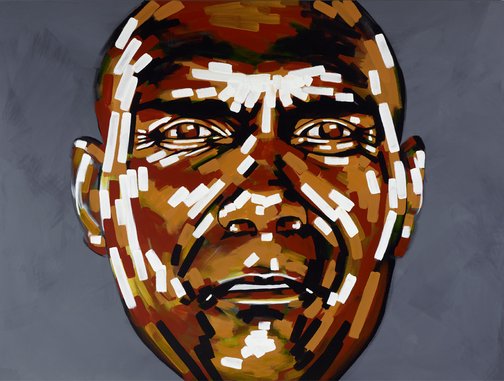 Vernon Ah Kee
I see deadly people, Lex Wotton
Medium

acrylic on linen

Read label text

Lex Wotton lives on Palm Island. An Aboriginal elder and activist, he is a plumber by trade and a former Palm Island councillor. In 2008, he was found guilty of inciting a riot following the death in custody of Cameron Doomadgee. He was released from jail in 2010 and is currently prohibited by law from speaking to the media.

Wotton is married to Vernon Ah Kee's cousin. 'My mother was born on Palm Island and Palm is home for many of my relatives,' says the artist. In 2010, Ah Kee put together a show about Wotton and the civil unrest on the island in 2004 and went to Palm Island to visit Wotton, who had not long been released from prison. 'He wanted to know why I had travelled to spend time with him when surely I could have just made the work without him,' says Ah Kee. 'I explained that I didn't want to infringe on his parole conditions and risk him being locked up again. Over the past few years, since our initial discussion, we have had several conversations. He is engaging, thoughtful and intelligent. Lex is much admired on Palm Island. He is quietly spoken, passionate about the Island and not at all the vociferously physical character he is portrayed as in the media. As Lex has mentioned to me in our conversations, "that was just one day".'

'Lex should look bold and brave. And although his expression is calm, the finishing touches of white on the painting lend his face a fierceness that "war-paint" achieves; the kind of fierceness that is achieved in rainforest shields through the use of the colour white.'

Born in 1967, Ah Kee is from Far North Queensland and is based in Brisbane. He holds a Bachelor of Contemporary Australian Indigenous Art, Honours in Fine Art from Queensland College of Art, Griffith University. He is a founding member of proppaNOW artists collective in Brisbane. His work is included in many public collections including the National Gallery of Australia, the National Gallery of Canada in Ottawa, the National Gallery of Victoria and the Museum of Contemporary Art in Sydney among others.